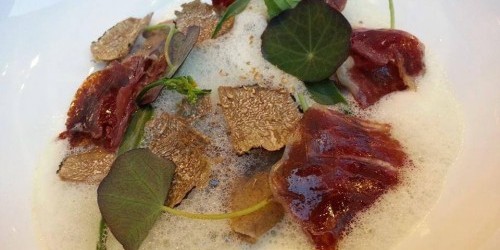 This is no longer included among the favorite 350 addresses that make up 
Our Guide to Paris Restaurants
. We've maintained this page so that you can refer to the practical information and other reviews of interest. Feel free to share your own opinion in the comments.
Practical information
Address: 49 rue Berger, 75001
Nearest transport: Louvre-Rivoli (1) or Les Halles (4)
Hours: Lunch and dinner, every day
Reservations: book a day or two in advance
Telephone: 01 40 28 00 00
Average price for lunch: 35-49€
Average price for dinner: 50-100€
Style of cuisine: Modern French, French bistro
Website   Facebook
Reviews of interest
Le Figaro (2012) "Addition du genre cactus… Asperges vertes et sabayon à la menthe: probes sans plus. Carpaccio de veau au yuzu et parmesan: trop épais. Carré d'agneau et mijoté de haricots coco à la provençale: manque de niaque…"
John Talbott (2012) "It's a wonderfully elegant setting and the amuse gueule of marinated ceviche-like daurade royale with cucumbers was a terrific start…then he had the carrelet with green beans and I had the magret de canard with mushrooms and a wonderful intriguingly flavored sauce. Both were most tasty and not only based on good products…but very properly cooked and tastefully plated.
Alexander Lobrano (2012) "…if proprietor Arnaud Bradol's sourcing is outstanding, the quality of the cooking just doesn't warrant such vertiginous prices…this restaurant had almost none of the edgy and delicious mojo of Les Fines Gueules… it seemed to me that the desire to coin more or less the same formula as that served up at the original restaurant but with a higher price tag was something that wasn't going to fly…"