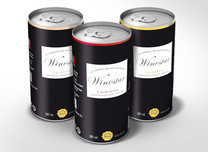 Connoisseurs who gravitate toward wines protected by an Appellation d'origine contrôlée (AOC) – France's system of regulating the production of wines in a consistent and traditional manner – now have a new way to enjoy their vin: from a can.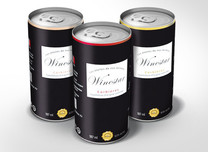 Winestar's red, white and rosé AOC Corbières wines come in 187 ml recyclable cans, are intended for solo consumption and meant to appeal to a younger generation concerned with being eco-friendly. Because nothing says responsible drinking like drinking alone!
Co-founder Cedric Segal, who has clearly never walked along the Canal St. Martin on a summer evening, has declared a concern that young people are not preserving the time-honored but supposedly endangered practice of drinking while picnicking.
Wine blogger Aaron Ayscough of Not Drinking Poison in Paris comments that the product is "sure to succeed – they're able to capture several wine-apathetic markets at once: air travelers, ditzes, and the drunken homeless. Good news for those demographics. Bad news for anyone trying to shore up the reputation of the Corbières AOC."