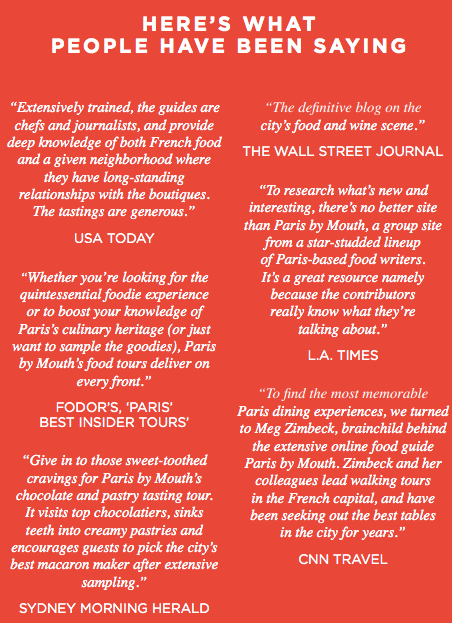 Curious about our tasting tours? We've been recommended by The New York Times, USA Today, Time Out, David Lebovitz and Ruth Reichl, and you can read below what some of our wonderful clients have said about their experiences. Be sure to check out our calendar of upcoming food & wine tours and or just send us an email with any questions. Hope to see you soon!
——-
"The tour was fun, informative and (most importantly) delicious! I brought along my friend who lives in Paris (for 11+ years) and he had only been to one of the places we visited, and he LOVED the tour and how informative it was. I learned tons about cheese and bread and got enough food that I wasn't remotely hungry until our late dinner. Now writing this review I just wish I could have some of the things we ate again! Great experience, would recommend 100%."
-Taste of the Marais, reviewed on TripAdvisor in September 2014
"Diane thought of every detail that made the tour fabulous, leaving us hungry for more tours with Diane and Paris By Mouth. She shared information from her expansive knowledge about Paris, its food, wine, markets and restaurants that cannot be found in a guidebook! PBM tours are a must for travelers who appreciate learning about life in Paris."
- Taste of Saint-Germain, reviewed on TripAdvisor in September 2014
"Since I was already seeking out knowledge of Paris and its natural wine scene I especially found the Beyond Bordeaux tour to be spectacular. Aaron is a total pro having been a sommelier in the states but also having immersed himself in the natural wine scene in Paris. Going around with him really felt like going out with your best wine nerd friend to their favorite haunts — a definite insider's feel!"
- Beyond Bordeaux tour of Natural Wine Bars, reviewed on TripAdvisor in September 2014
"Simply Amazing: This was the best start to my Paris experience, with a a guide (Sara) who was knowledgable, friendly and great host, with a passion for food only outshined by her knowledge of the food and wine and local producers. Couldn't say anything more about this tour other then it was amazing, the tour were all inclusive did not have to pay for extra foods included cheese, meat, chocolate, macaroons, pastries and amazing bread. Honestly incredible. Average age was a little older but as a 25 year old Australian traveller was well worth the spurge and every cent. Amazing thank you so much for the experience."
-Taste of Saint-Germain, reviewed on TripAdvisor in September 2014
"I couldn't think of a better way to spend 3 plus hours on a Saturday afternoon in Paris. Aaron's kind temperament and personal passion for wine was a thrill to be around. The group all shared the interest to discover the hidden treasures of the 11th arrondissement . My first tour of the Marais the previous year was so excellent I thought why not do it with wine this year. As a solo traveler in Paris don't hesitate to sign up!
- Beyond Bordeaux tour of Natural Wine Bars, reviewed on TripAdvisor in September 2014
"Phyllis was on time, well-prepared and kept us on track for this food tour. She took us to an olive oil purveyor where we ordered a great black olive oil shipped home. Yum. I will not spoil the insights by telling you about them, but Phyllis told us important history of restaurants and of the MOF system in France. Liberal wine tasting, lots of samples. Highly recommended."
- Taste of the Left Bank, reviewed on TripAdvisor in September 2014
"Foodie's delight: We had a wonderful time with Emma on our food tour through the Latin Quarter. It was a nice blend of sweet and savory food and of course wine. We did this on our first day in Paris and it was a great way to learn some history and taste many things Paris is known for right of the bat. It gave us a great foundation for the rest of our stay."
- Taste of the Latin Quarter, reviewed on TripAdvisor in September 2014
"A food lovers dream come true: Jennifer toured us through the Marais with charm, humor and a great deal of expertise. She had a wonderful rapport with the various shop keepers and the tour was a highlight of our visit to Paris."
-Taste of the Marais, reviewed on TripAdvisor in September 2014
"Our family took a private food tour of the Saint-Germain area with Diane. My entire family family, including our two children (ages 9 and 6) thought it was a highlight of our Paris vacation! This tour was not only DELICIOUS, but it was informative and fun, and it allowed us to feel very "local"… I highly recommend Paris by Mouth food tours as it will be an incredibly memorable part of your vacation!"
-Private Taste of Saint-Germain, reviewed on TripAdvisor in September 2014
"Just a perfect way to experience Paris: Paris by Mouth say they specialise in small groups and this is correct. There were only 6 of us, 3 couples, so we all felt very special as we slowly walked around the wonderful area of Paris known as St Germaine. Sara our guide was excellent, she was very knowledgeable on French cuisine and took us to little places were we ate cheese that was sensational, beautiful wine to accompany it and then a selection of meats, then off for cakes, and finally chocolate (the quality of the foods would be impossible to find in Paris without Sara). I could go on forever but suffice to say it is also a highlight of our tour to France. Look up their website and book well in advance before you leave home that way you won't miss out."
- Taste of Saint-Germain, reviewed on TripAdvisor in September 2014
"I've heard lots of great things about Paris by Mouth food tours and they definitely delivered! The Wine and Cheese workshop started with a glass of bubbly and things only got better throughout the course of our time together. We tasted 14 cheeses paired with wine, beer and cider from every corner of France. Not only did I learn a lot of about cheese and wine, but Meg even took us to a market and gave us tips on how to order cheese. The workshop was educational, but also fun and light hearted. I would highly recommend Paris by Mouth!"
- French Cheese & Wine Workshop, reviewed on TripAdvisor in September 2014
If you are into food and wine and interested in learning about the best Paris has to offer, I highly recommend Paris by Mouth. I did two tours – The Tour of the Left Bank with Diane and the Wine and Cheese Extravaganza with Meg, highlights of my Paris stay. I was blown away by the command of the subject and non-pretentious, engaging style of 'teaching' that both these women displayed, which made these small group experiences feel more like time hanging out with friends and enjoying good food/wine rather than a superficial hospitality event. I stayed in Paris for a month, and Paris by Mouth became one of my most important resources for the best in food and wine. I highly recommend you check them out!
- Taste of the Left Bank and French Cheese & Wine Workshop, reviewed on TripAdvisor in August 2014
"Awesome experience: I am so glad that I booked the Wine and Cheese Extravaganza with Meg. It was so much fun and I learned a lot. Meg is very engaging and was truly interested in the interests of myself and my fellow workshop participants. We were introduced to a wide variety of cheeses and wines that went with them. This class is very interactive and we were encouraged to ask questions. Most of the class was conducted in one place, but we did get to cross the street to the covered market-Marché Beauvau to visit the cheese monger and to buy more cheeses to sample. I would love to take the class again. My only regret is that I could not take another one of their tours. Maybe next time I'm in Paris!"
- French Cheese & Wine Workshop, reviewed on TripAdvisor in August 2014
"Catherine led us through the delectable tastes of the Latin Quarter, from macarons and award-winning chocolates to fresh goat cheese and wine. Along the way she shared fascinating insights on the food as well as the history and architecture of the neighborhood. Her background in American culture (her spouse is American and she has lived in California) gave her a unique perspective on the similarities and differences of the two cultures. We would highly recommend this entertaining and educational food tour."
- Taste of the Latin Quarter, reviewed on TripAdvisor in September 2014
"Worth every euro: I had the opportunity to join Meg last week for an afternoon Cheese and Wine Workshop and I was completely satisfied! I mean that literally and figuratively. The knowledge shared and wine and cheese selections by Meg were more than generous, the company was very enjoyable and it was a perfect way to experience cheese and wine in Paris while hopefully, gathering some knowledge to take home. I highly recommend Paris by Mouth and will definitely join them again if I have the chance. Well done."
- French Cheese & Wine Workshop, reviewed on TripAdvisor in August 2014
"Stop scrolling and book this now: honestly, don't spend any more time on trying to decide what to do while in Paris. My wife and I spent 10 days in Paris, did all sorts of different tours, and this was hands down our favorite. Catherine's expertise in all facets of French food & wine cannot be emphasized enough. Can't recommend this enough!!"
-Taste of the Marais, reviewed on TripAdvisor in August 2014
"No better introduction to Paris: on our first full day in Paris, my mother and I did the cheese class (which was really the cheese, wine, bread and awesomeness class). Amazing cheese and wine plus a group of new friends (some of whom we're still in touch with long after our trip) made for the perfect start to our visit. The class is both an in-depth look at how cheese is made, aged and sold in France and a delightful party. You learn and have fun and eat and drink some of the best food/wine you'll have while in Paris."
- French Cheese & Wine Workshop, reviewed on TripAdvisor in August 2014
"A Must-Do in Paris: Catherine was our guide for Taste of the Left Bank. She was really fantastic. It was pleasantly informal, like having a personal friend give you her perspective of Paris and their food culture. We had a small group so it was easy to ask questions and customize the tour for us. Not scripted, she bought food at specialty shops as we went telling us what to look for, allowing us time to shop for gifts, and choosing items for us to try according to what looked good that day and to our tastes. At the end (and some along the way) we enjoyed cheese, charcuterie, chocolates, and wine. Plenty to eat for everyone… So come hungry and don't plan to eat too soon afterwards. Well worth the cost. Don't hesitate and book well in advance as spots fill up quickly. "
- Taste of the Left Bank, reviewed on TripAdvisor in August 2014
"Meg is clearly excited about the topic at hand, and really set up a wonderful pairing of wine and cheeses, taking us through different regions of France and describing what wines and cheeses they are famous for. The wines are not everyday names, which we really enjoyed; I love learning about small independent producers of natural and/or relatively low alcohol wines. It was really enlightening (and a little sad) to learn all about what we are missing here in the US because of some not-terribly-well-thought-out regulations. The opportunity to taste and buy some of these forbidden cheeses at the local fromagerie was wonderful. The amazing bread that Meg brought in to pair with some of the cheeses also was a treat. Highly recommend not missing this opportunity to learn about French wine and cheese."
- French Cheese & Wine Workshop, reviewed on TripAdvisor in August 2014
"Great tour, even though we're not in to natural wines! We booked this tour with trepidation – original we'd booked a foodies tour but had to change days. Certainly not into natural wines, but thought we'd give this a go.  Well, can't recommend more highly, a great tour of wine bars with an interesting selection of wines. Our tour was lead by Aaron who has a fantastic knowledge of all things wine. You don't have to be a natural wine fan to enjoy this tour – it adds spice to an already diverse subject.  Follow up after the tour has also been impressive – we received a comprehensive list of where we had been and what we tasted, meaning there's no need to take notes as you go.  You won't be disappointed."
- Beyond Bordeaux tour of Natural Wine Bars, reviewed on TripAdvisor in August 2014
"Just what we needed! We almost didn't take this tour. Although it sounded intriguing, we were concerned about our return on investment. We also researched several other similar tours and were having difficulty choosing between them. However, I am so glad we went with our gut and said "yes" to Paris by Mouth! Our guide, Emma, was incredibly personable and knowledgeable. Our primary objective was to gain some know-how and experience for perusing the food shops and markets in our Latin Quarter neighborhood and Emma delivered on that big-time. She not only helped us choose and sample along the way, she answered questions, gave us background information, and imparted skills for our own exploration. This tour turned out to be one of our favorite memories for the 10 days we were in the city. I only wish we had scheduled it earlier in our stay. Highly recommended!!"
- Taste of the Latin Quarter, reviewed on TripAdvisor in September 2014