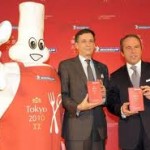 The question of Michelin's relevance is raised anew every year, and often by the same bloggers who were racing to first-report those results. Beyond the debate about individual awards (Does Cyril Lignac deserve a star more than Spring, Agapé Substance or Septime?), the more interesting discussion is always about who do you really trust?
Does Michelin still matter? And is there any downside to the proliferation of voices and the continuing unraveling of critical authority?
Join the conversation
There's a lively debate on this very issue happening in our discussion forum now.
Additional reading