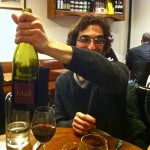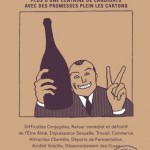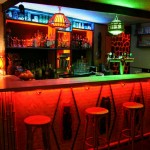 Sips & Sightings
Aaron Ayscough is very! excited! about the wine list at Jeu de Quilles. "All four of Kermit Lynch's "Gang of Four" represented! Plus Descombes! And four different vintages represented! To find a better list of Beaujolais, you'd have to actually go there." He settles on a "P'tit Max" from Guy Breton, calling it an "absolutely magisterial Morgon." (!)
Remember tiki bars? Paris now has one. Forrest Collins finds masks and carvings, creaky rattan furniture, and pretty average rum cocktails at Le Tiki Lounge. Thank Kumokuhalii, it's been too long since I drank something out of a coconut.
And speaking of things I didn't realize that I missed: Sierra Nevada Pale Ale. It's on the beer menu at Blend and is just as good as I remembered. I do worry, though, that regular exposure will render me unable to stomach the piss beer one usually finds in Paris, the way Coutume has ruined me for most coffee.
Tastings & Musings
Alice Feiring reminds us that natural wine is not a new thing, despite the recent proliferation of growers and wine bars specializing in the stuff. Still, there is growth, and "where there is growth, where there is pooling of talent and pooling of ideas, where there is cross pollination, and deep kissing on the dance floors, where there are wild packed tastings in limestone caves and in conference centers where there are  groups that form and exchange information, wines,  fun and drama, there is life." Speaking of which, the Dive Bouteille salon of natural wines begins tomorrow in the Loire Valley.
Related News
Decanter reports that (outstanding) winemaker François Chidaine has resigned from the executive board of InterLoire. "The organization has become a big bureaucratic machine and doesn't deliver value for money," he said. The last we heard of InterLoire, they were suing natural winemaker Oliver Couisin.
Chinese scientists are developing a "sobriety pill" which, when taken while drinking, blocks the intoxicating effects of alcohol. Oh dear… what sort of Olestra-style side effects can we expect with this one? [New Scientist via Dr. Vino]