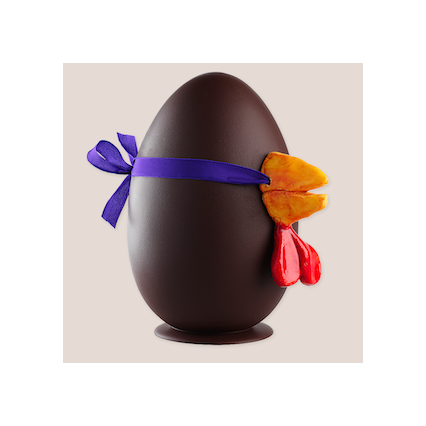 It's that time of year when edible Easter bells multiply like bunnies and spring up on the shelves of every chocolaterie in the city. You'll also find clowns, eggs and even dildos made of chocolate this week in Paris.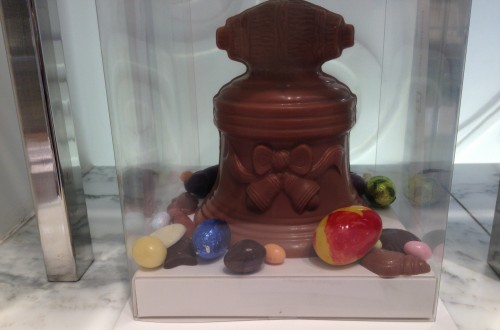 Easter in Paris
French Easter tradition stipulates that on Good Friday, all the bells in all the churches fly south to pay a visit to the Vatican. They return home on Easter, dropping chocolate for little children along the way. A flying bell that poops chocolate doesn't make a whole lot of sense, but then again, neither does a rabbit that lays eggs. Church bells will be silenced on the Friday and Saturday prior to Easter, presumably because they are hanging with the Pope, then rung with great fanfare on Easter Sunday.
As the bells go on vacation, so too do the restaurants & shops. Easter Sunday is a particularly tough time to eat out, even for those used to the challenge of scoring a Sunday reservation, as most shops and restaurants will shutter. Expect some unexpected Friday, Saturday & Monday closures as well.
Most deserving of a holiday are the chocolate makers, for whom this is the busiest time of year. The resurrection of Jesus (and the end of Lent) calls for lavish meals with family and friends. Easter is thus prime time for top chocolatiers to create elaborate chocolate works of art to be given as gifts. The bell is most common, followed by tiny fish representing poisson d'avril (April Fool's Day), eggs, bunnies and even a couple creepy clowns…
Every year, chocolate makers demonstrate their creativity and vision with new chocolate sculptures for Easter. Below, you'll find a collection of the 2014 works from some of our favorite Paris chocolatiers.
Jacques Genin
Easter has overtaken the tea salon & chocolate shop in the form of giant hatching dino eggs, Easter Island heads, edible chocolate tops for children, cheerful handpainted eggs, bunnies and the aforementioned clowns. Pastry chefs mix edible pigments with cocoa butter and hand paint the molds which are then filled with chocolate. Most are hollow, but a few sculptures will be filled with bon bons when broken open. Another classic favorite are hollow real eggshells that are sterilized then filled with a crunchy chocolate hazelnut praline. Closer to Easter weekend, the tea salon will be shut down and turned into a staging area for gifts. Read more on our page for Jacques Genin.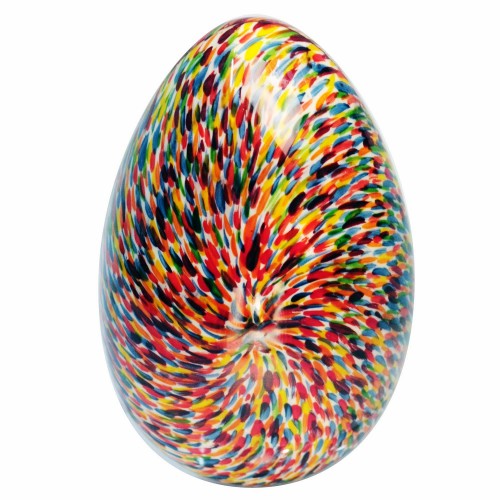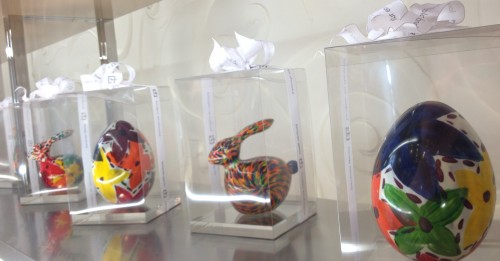 Patrick Roger
No bells were spotted at Roger this year — only whimsical pigs, a variety of frogs, chickens, and an elongated egg meant to resemble a cacao bean. Read more on our page for Patrick Roger.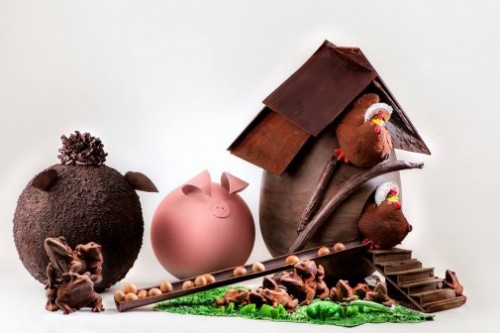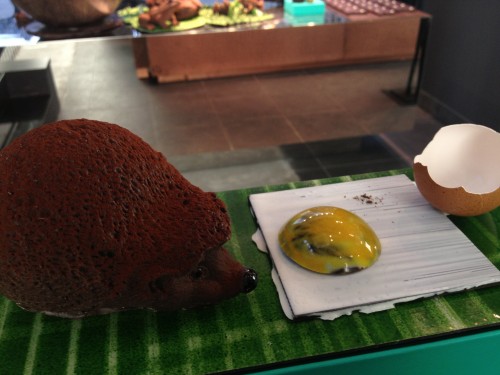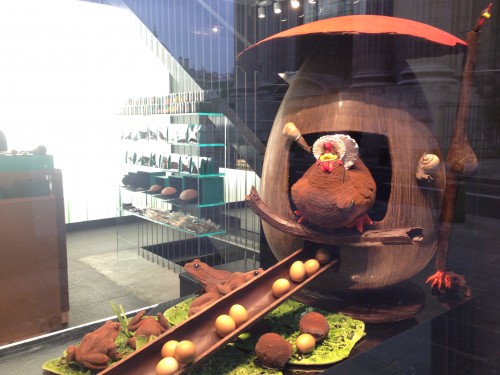 Jean-Paul Hévin
Hévin's cheeky take on the Easter egg masquerading as a variety of Spring animals starts at 93€ per egg. Read more on our page for Jean-Paul Hévin.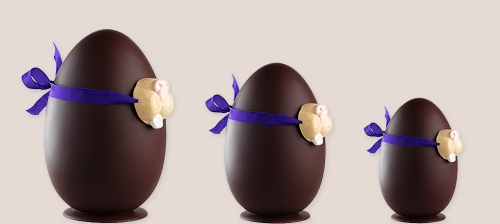 Le Chocolat Alain Ducasse
Ducasse has two Easter show pieces this year in the form of two kinds of radically different praline eggs. First up: Easter Egg Pralines using real egg shells that have been hollowed out, sterilized and filled with coconut, pistachio, almond, and hazelnut. Crack and peel the shell for the most delicious hardboiled egg there is. A box of 4 for 30€.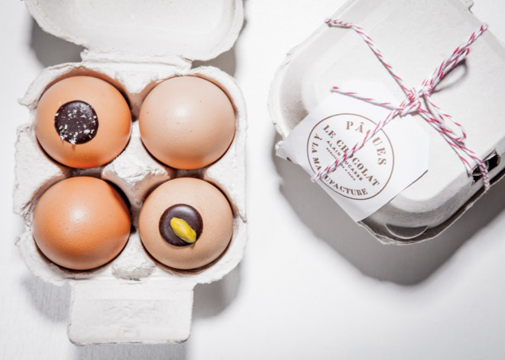 Alternatively, there's the L'œuf de Pâques feuilleté, a hollow egg with crunchy praline and feuilletine meant to be shattered and gnawed upon. 30€ per piece. Read more on our page for Le Chocolat Alain Ducasse.

Hugo & Victor
The Fox and the Stork, The Goose with the Golden Egg, and The Tortoise and the Hare are all fables by Jean de la Fontaine that have here been transformed into edible artwork. Read more on our page for Hugo & Victor.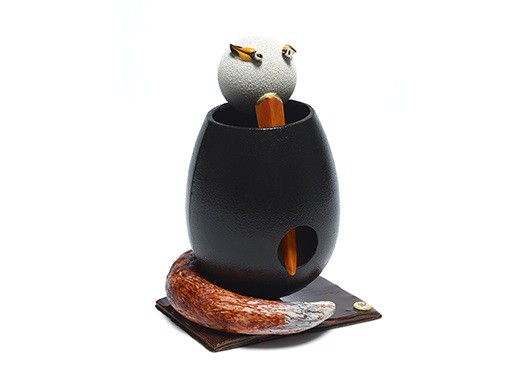 La Maison du Chocolat
These chocolate making bunnies are all hand molded and painted by artisans at La Maison du Chocolat. Read more on our page for La Maison du Chocolat.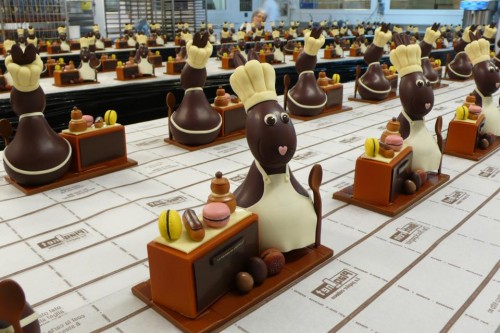 Pierre Hermé
This lacy egg is made with 66% Grand Cru Caraibe chocolate and filled with a variety of tiny eggs inside. Find more info on our page for Pierre Hermé.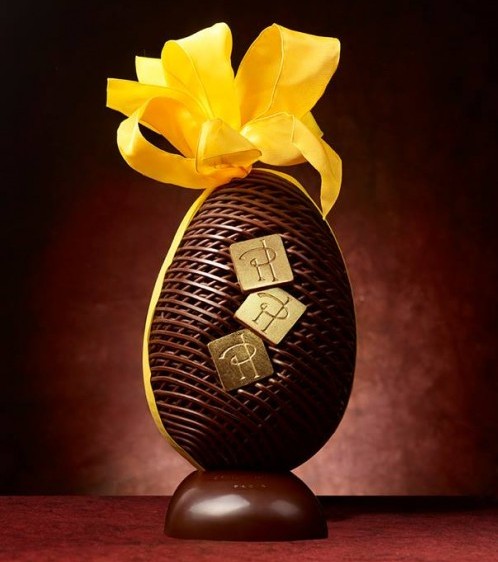 À La Mère de Famille
Gender stereotypes aside, À La Mère de Famille has very cute chocolate mères & pères de famille for you to bring to your family. Read more on our page for À La Mère de Famille.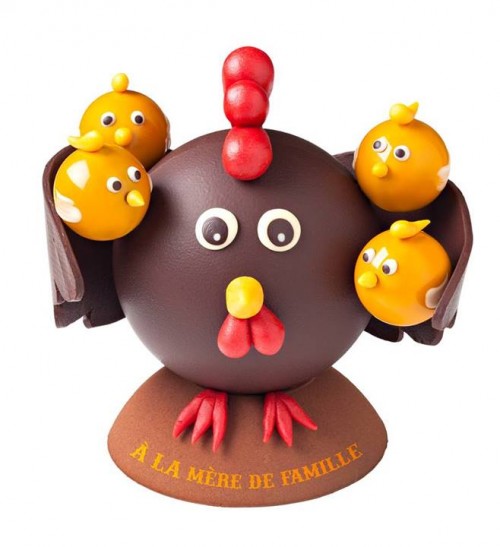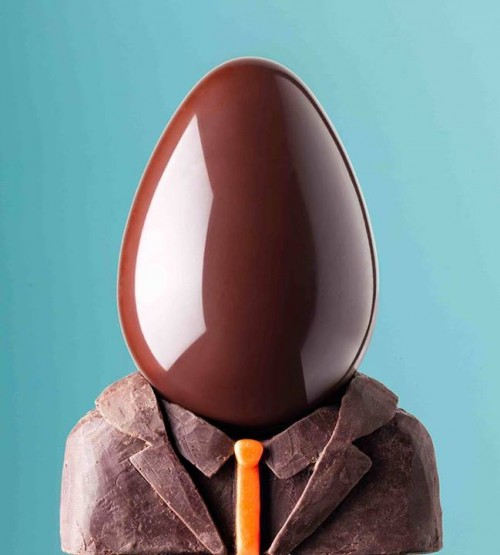 Josephine Vannier
Resurrect your sex life this weekend with chocolate sex toys from Josephine Vannier. The edible dildo is hardly traditional, but Vannier promises that it "gives you pleasure but doesn't make you fat." Read more on our page for Josephine Vannier.
Henri Le Roux
Le Roux looked to Brittany and Japan to create more exotically flavored showpieces. His crop includes a yuzu matcha egg stuffed with mini eggs and chocolate fish, as well as a dark chocolate egg studded with sea salt from the Brittany coast. Read more on our page for Henri Le Roux.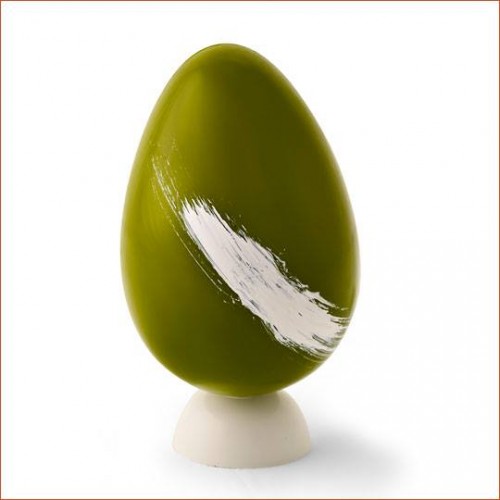 Fauchon
And finally, the one percenters out there will enjoy this creation from Fauchon – a 60cm chocolate egg decorated with jewel toned faux peacock feathers for only 795€!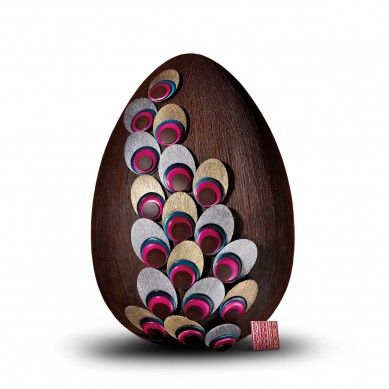 Additional Reading: