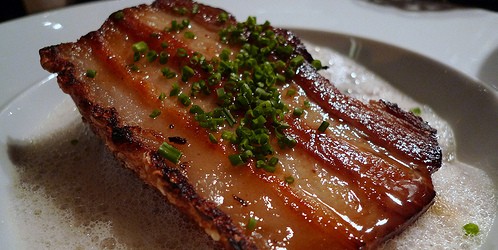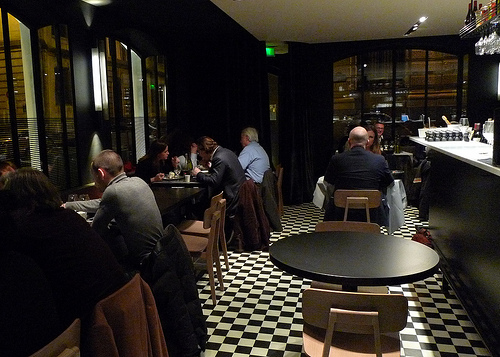 Moments before walking into this newest member of La Régalade family, I read the following lines from a review by Alexander Lobrano:
Ever since he took over the original La Régalade in the 14th arrondissement from founding chef Yves Camdeborde in 2004, Bruno Doucet has continued to delight bistro-loving Parisians with his shrewd and technically impeccable modern French bistro cooking.
"Shrewd?" I wondered. "What's he mean by that?" Then I sat down and saw the menu.
Is it shrewd for Doucet to hedge his bets, especially during an opening month, by serving a small number of his greatest hits? The marinated sea scallop starter, the cod and sea bream, the steak with beef cheeks, the pork belly – these are all things that the chef clearly loves to cook. I've enjoyed them at previous visits to his other restaurants La Régalade (2009) and La Régalade Saint Honoré (2010). Along with stalwart desserts like rice pudding, pot de crème and the Grand-Marnier soufflé, these repeats make up the bulk of Doucet's menu at the new restaurant.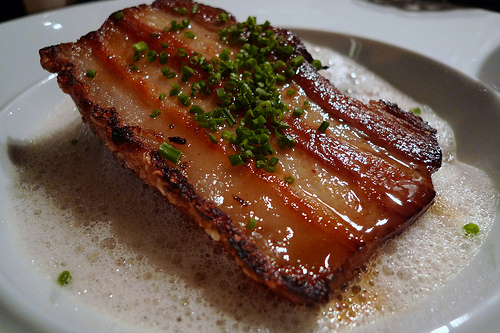 Pork belly with lentils in 2013. Also on the menu in 2010 and 2009.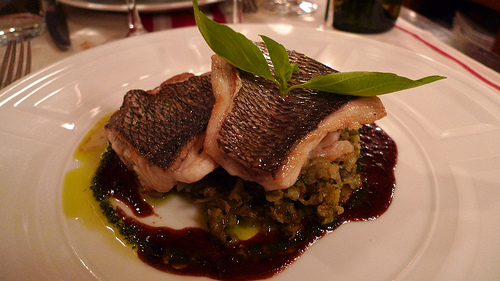 Dorade with fennel in 2009. Also on the menu in 2013.
House-made terrine at every visit (and thank goodness for that).
I'm not sure that Lobrano was referring to any of this when he uttered the word. Nor do I mean to say that shrewd is bad. Doucet is serving a product I like – updated bistro fare based on fresh seasonal products – to an increasing number of people. If he's consistent in his cooking, he's also steady with his prices. The tally for a three-course prix-fixe meal has only risen by two euros from 33€ in 2009.
There are, however, disappointingly few surprises for someone who has previously enjoyed the Régalade bistro brand. The decor may vary dramatically with each new opening (the worn original is still my favorite), but there's no detectable difference in Doucet's cooking from one address or year to another.
Will I continue to recommend Les Régalades to visitors in search of good bistro food? Absolutely. Will I be back again myself? Probably. There aren't many restaurants open on a Monday night, and it's hard to argue with their prices, their precision, or that welcoming crock of house-made terrine. Perhaps in April, with the hope that Doucet might recycle one of my favorite morel mushroom dishes? Repetition may not be such a bad thing, after all.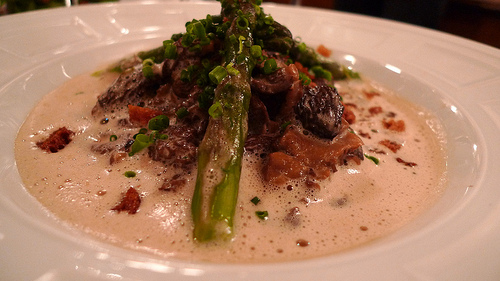 Morels mushrooms with aspargus, 2009
Morel mushrooms in cream, 2010
For more details, including address and hours, see the page for La Régalade Conservatoire in Our Guide to Paris Restaurants.