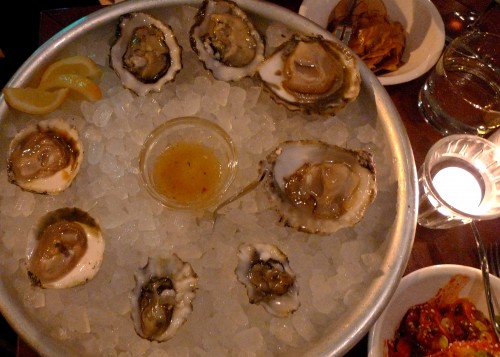 Le Mary Celeste is a new restaurant from the people behind Candelaria and Glass. Accordingly, there's a solid cocktail program and two Brooklyn beers on tap. Another creative and beautiful (now nautical) interior from David Rager, Cheri Messerli and Gilles Tombeur. These will get a lot of attention, as will the rotating cast of mostly wild oysters sold by the piece for 2-5€. But the real story here is Haan Palcu-Chang.
Haan is a Canadian of Romanian and Chinese descent whose most recent professional gigs were in Michelin-starred restaurants in Copenhagen. However skilled he may now be in the art of making foams and gels, he's equally passionate about time spent learning how to cook from "real Asians" in New Zealand and about the ethnic food scene in his native Toronto. He's a food nerd, and this is the first time that he's been given control over a kitchen.
When you mix together the technique, the respect for ingredient and the ethos of everything-from-scratch, the result is a small plates menu that's so much better than it needs to be. In the same spirit as Paris' Au Passage or Copenhagen's Fiskebar – this is a place where serious Food is being transmitted through a small plates medium to unshaven people in skinny jeans.
Examples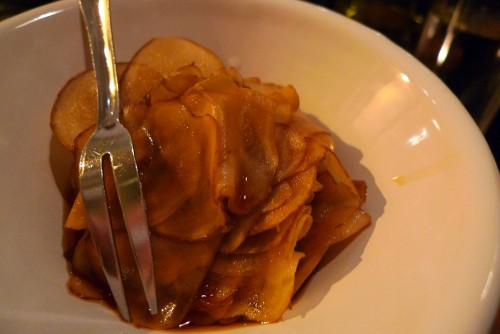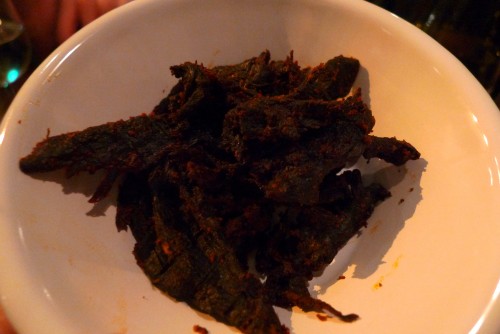 Bar snacks of (all housemade) pickled topimambour, beef jerky, kimchi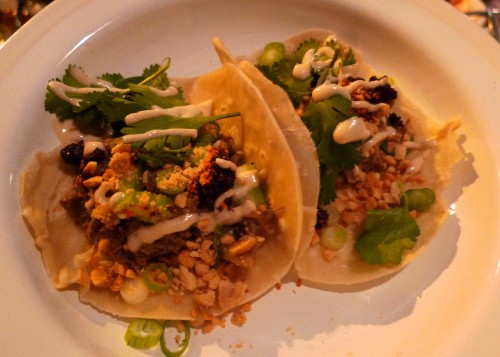 Crêpes Chinoises: beef shin, celery, sesame, peanuts
 There's also a respect for vegetables here that one doesn't often find in Paris. While we were tempted by the poitrine de veau (veal breast) with coconut milk or the pintade (guineau hen) with tare sauce, we surrendered instead to a vegetarian dish with two kinds of cabbage, black beans and a roasted carrot that was so deeply savory it could have been meat. The two dishes I'll return for are also meat-free: steamed oysters with chili, black vinegar, and crispy shallots, plus endives with tamarind and mint. Tamarind also flavors a chocolate creme dessert with Maldon salt. When's the last time anyone saw tamarind in Paris?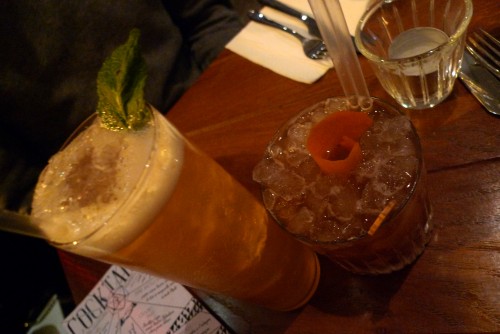 I opted instead for a dessert cocktail (or two). My favorite was the Rain Dog, made with small batch bourbon, bitters, mint, lemon and sirop de capillaire. That last ingredient is a house-made infusion of simple syrup, orange flower water, and dried maidenhair fern. It's what makes the drink more than a mint julep, and it's what makes the drink 12 euros.
Practical Advice
It's possible to reserve (only by email at reservations@lemaryceleste.com), and I would recommend doing so. The dining room was absolutely packed at 8pm on a Thursday with no place to sit besides our two reserved seats.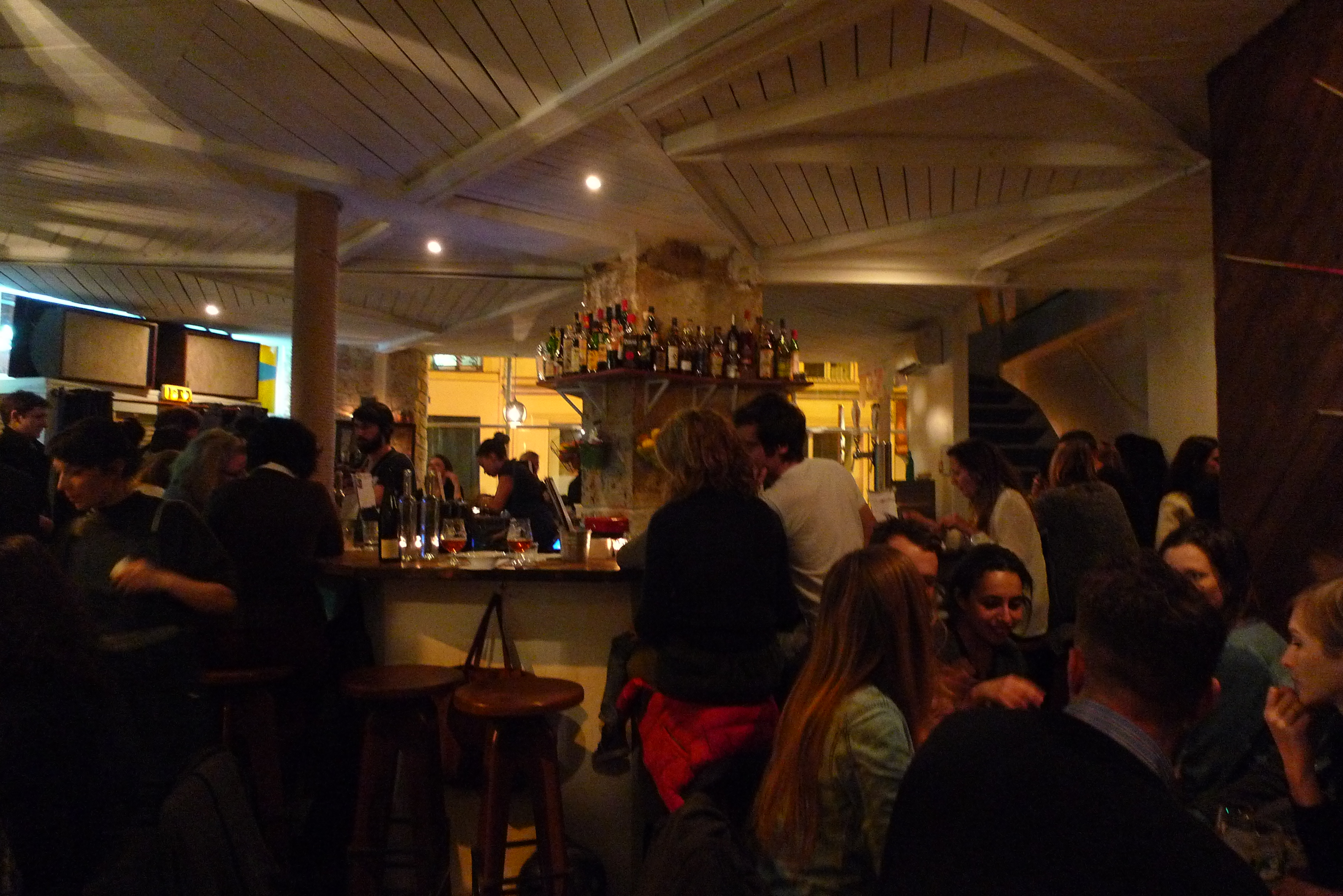 It's also possible to order sequentially, another something I would recommend. Nearly all of the five dishes we ordered arrived at one time, along with a giant oyster platter, and these didn't fit on the tiny little table. My friend and I took turns holding plates in the air above the platter to let the other person take a few bites. The result: a stream of fatty jus dribbling from the crêpe chinois onto an unsuspecting kumamoto oyster below. Delicious, actually. We then had to stack the demolished plates under my chair to free up our hands for oyster play. It made the waitress giggle, and we thought it was fun. However, other eaters may have different standards, and they should order sequentially.
The best move would be to arrive early for a first round during the 5-7 pm Happy Hour when oysters (one special per day) are sold at only 1€ a piece. Wash them down with a good bottle of Muscadet from Marc Olivier for 22€ or an even better Muscadet from Guy Bossard for 34€.  Then order everything on Haan's food menu, and as many drinks  as you can stand from Carlos (ex-L'Hotel) Madriz' cocktail menu. You will float out very full and, like the namesake sea vessel, on your way to wandering lost.
For more details, including address and hours, see the page for Le Mary Celeste in Our Guide to Paris Restaurants.