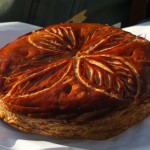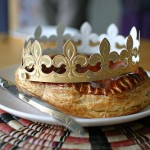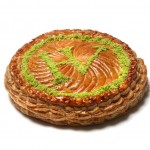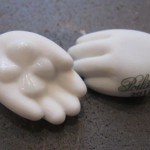 Let's all raise our glasses to Gaspard, Balthazar and Melchior – the three kings who traveled to meet the newborn baby Jesus more than 2000 years ago. Their visit (Epiphany) was the occasion that gave rise to the galette des rois, a delicious treat that the French consume on (or around) January 6. Clotilde Dusoulier tells us that a classic French galette des rois is "a flaked pastry pie filled with frangipane, a butter-rich, smooth mixture of crème d'amande (almond cream) and crème pâtissière (pastry cream).  A tiny trinket (fève) is hiding within each cake, and whoever is lucky enough to eat the slice containing the fève is pronounced King (or Queen) for a day.
When we asked Clotilde and other contributing advisors to crown their own king, the baker of their favorite galette des rois, they chose Christophe Vasseur of Du Pain et Des Idées.
Five Great for Galette des Rois
Du Pain et Des Idées – Christophe Vasseur makes his galette without any artificial flavors – just a pure crème d'amande with sugar, butter, egg, almond and a touch of Grand Marnier.
Jacques Genin – A very close second to Vasseur, Jacques Genin serves a smaller version of the galette in his Marais tea salon, in addition to the larger take-away version.
There was a three-way tie between the following:
Poilâne – Galettes here often have special flavors (last year featured myrrh & frankincense), and contain particularly beautiful fèves.
Hugo & Victor – Selling a classic galette as well as one flavored with bergamote
Dominique Saibron – This year's collection of buttery galettes are flavored with almond, pistachio or (the latest) orange blossom.
Runners up (in order): Des Gateaux et du Pain, Pain de Sucre, Gérard Mulot
On the fence: Jean-Paul Hévin
Rejects: Arnaud Delmontel
About our process: For each topic, we begin with a little research to identify options. We then ask our readers, by posting a question in the forum, to offer additional suggestions. From that discussion, we compile a list of candidates and ask our panel of contributing advisors to rank their top choices and identify any rejects. Their rankings are weighted, analyzed, and compiled into a new Five Great post every week. Runners up are places who received more positive votes than negative comments. Those places "on the fence" received an equal number of positive and negative votes. Rejects are places that received only negative comments with no positive votes.
Related Links
François-Régis Gaudry says the galette at Du Pain et Des Idées is "absolument fabuleuse" but winces at the price. [L'Express]  Franck Pinay-Rabaroust interviews baker Christophe Vasseur about Gaudry's comment and about what qualities make a great galette. [A Tabula] Camille Malmquist shares her tasting notes in English. [Croque Camille]
More delicious Five Great lists: