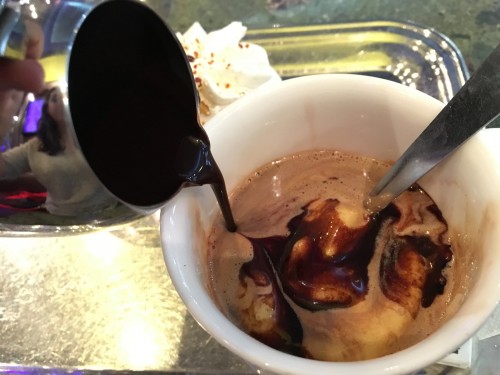 Baby, it's cold outside. Falling temperatures call for a mug of chocolat chaud. But where to find the real deal? When it comes to hot chocolate, Paris generally isn't a cocoa powder town; a true chocolat chaud tends to be real melted chocolate blended with warm whole milk, which is often deceptively creamy, or, for further decadence, a mixture of milk and cream. Here are five of our favorites for hot chocolate in Paris. 
In the summer, crazy crowds gather on the Ile Saint-Louis for Berthillon's famous ice cream, but in the winter, this old-fashioned ice cream shop is almost abandoned. The emptiness belies one of Paris' better-kept food secrets: It's hard to imagine a more decadent cup of cocoa than the chocolate affogato here. You receive a silver platter with a scoop of the ice cream or sorbet of your choice (you can't go wrong with the salted caramel or classic vanilla) alongside a pitcher of melted dark chocolate, another of frothy hot milk, and a bowl of whipped cream. Then you mix it yourself for a cup that is as chocolate-y or creamy as you like, though guaranteed to be completely over the top. If that wasn't enough, it's garnished with a crunchy nut cookie. Be sure you head to the original Berthillon, however, as there are many other spots nearby that will advertise that they sell the brand and are frequently mistaken for the ice cream shop.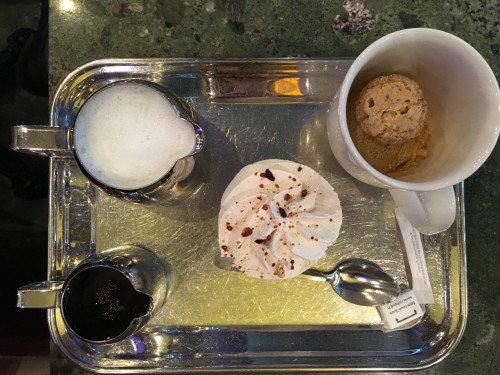 Head inside to the airy, spacious tea salon for one of the best cups of hot chocolate in town. The chocolate chaud at Jacques Genin is so thick that you can practically stand a spoon in it. The chocolate is intense and rich, so consider ordering the whole side bowl of whipped cream, flecked with vanilla, to cut the bittersweet blend. You'll usually receive some of Genin's bonbons or caramels on the side for an extra sugar high. For those concerned about being sent into diabetic coma, you can instead order a Chococcino which lightens the chocolate with espresso and a thick layer of cocoa-dusted whipped cream. Aim for one of the tables with the cozy couches and give yourself at least an hour as the wait time, for both tables and service, can be long, particularly when weather is nasty. If you fancy a bite while you sip, chocolatier Genin usually makes a handful of pastries to order each day and they're consistently some of the best within their category.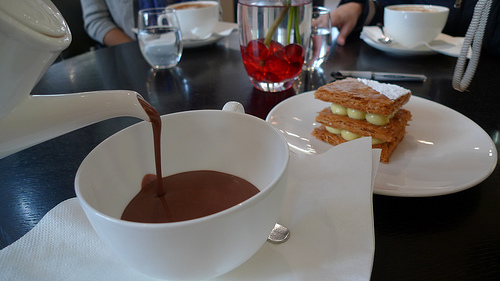 This might be the dark horse candidate of the hot chocolate world. While it's not as well-known as some of the others on our list, the quality at Pouchkine is quite high and the presentation and service are charming. The slightly bitter and very thick hot chocolate is frothed tableside in a silver pitcher and accompanied by a Russian love poem from your server. The original location is amidst the escalators of the upscale department store, so for a more relaxed experience head to the less hectic tea salon along boulevard Saint-Germain. Save room for some Franco-Russian desserts.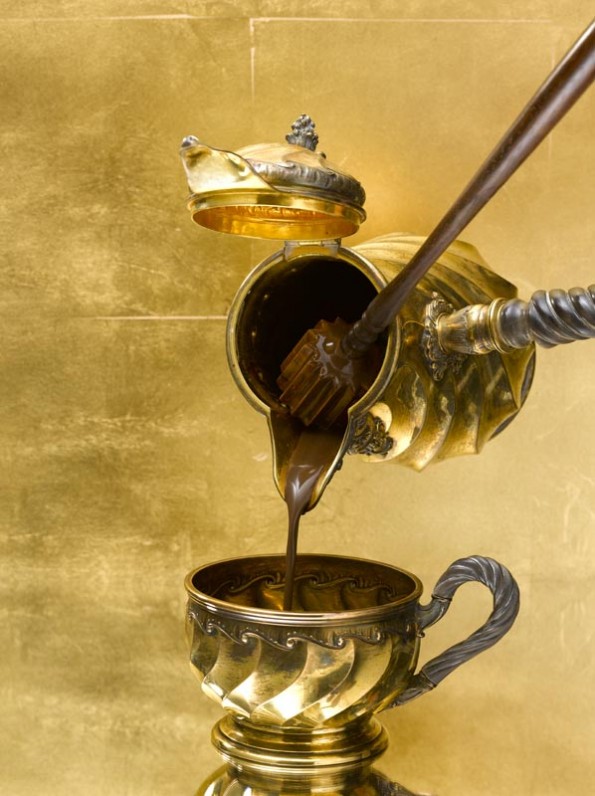 For the quirkiest cup, head to this chocolatier on rue Saint-Honoré where you'll find green tea, ginger, and, gulp, even oyster flavored hot cocoa served in the chocolate bar over the shop. However, in our opinion there's no messing with the purity of the original. If you're in the market solely for this classic cup of dark chocolate, go instead to Hevin's recently opened Chocolate Bar on rue de Bretagne in the Marais. There are only a few stools, but the solicitous server will whisk up the special cocoa blend with fresh milk from Normandy right in front of you. You can also take it to go to sip as you window shop in this fashionable neighborhood.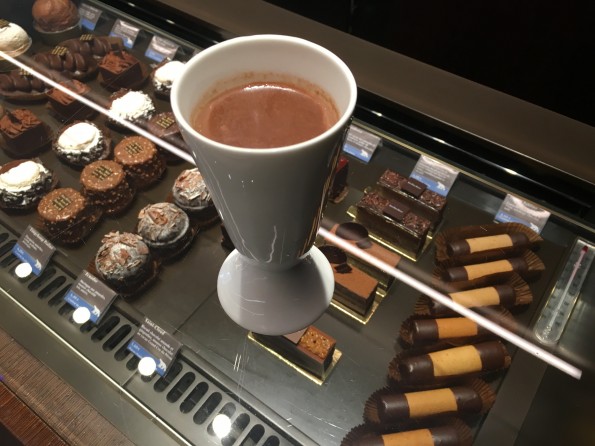 This chocolate shop from Pierre Cluizel serves its hot chocolate ceremonially in a porcelain chaudière at their lovely salon inside of a cobbled passageway. One of the sweetest blends tasted and with a distinct vanilla flavor, Cluizel's hot chocolate is €8 euros on site or €2.20 to go. You can take it down to the banks of the Seine or on a stroll through the streets of Saint-Germain.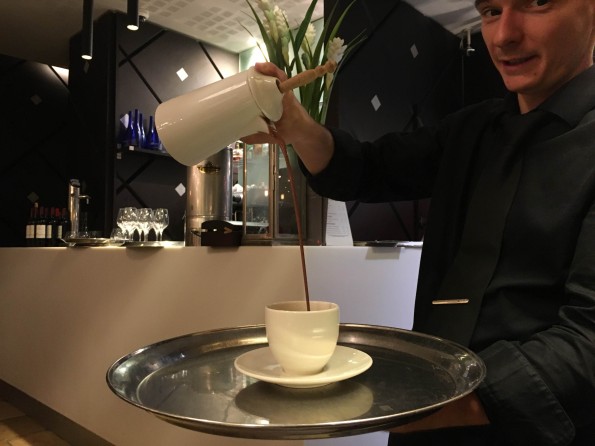 Notably absent from this list? Angelina. While this elegant tea salon might be one of the most famous in the world, at this point it's relying solely on reputation. We don't recommend it unless you want your cup of cocoa to feel like a cattle call. The lines outside stretch down the block and you can easily spend 20 minutes in the cold before being squashed into the bustling tea room. The famed "L'Africaine" blend of three different chocolates is dark, bittersweet, and rich – everything you could hope for – but arrived at our table with a skin already formed on top. Service was brusque and disinterested. It's a good hot chocolate, but there are far more pleasant experiences to be had. Your best bet if you have your heart set on Angelina is to pick a cold, clear day, head instead to their sidewalk kiosk just outside the original location on rue de Rivoli, then take your drink to enjoy inside the beautiful Jardin des Tuileries across the street.