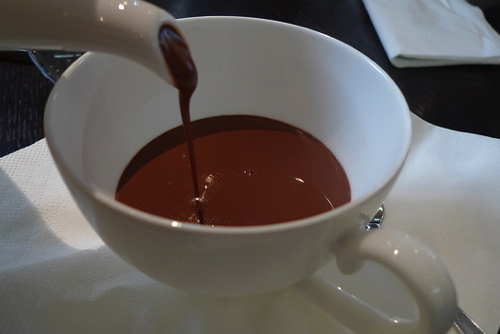 The falling temperatures have us thinking about one thing: Hot chocolate.
We asked our cuckoo-for-cocoa contributors where they go for a cup of chocolat chaud, and the results range from chocolate specialists to elegant tea salons and neighborhood cafés. Notably absent from the top five? Angelina, whose thick-enough-to-stand-a-spoon-in-it version might be the most famous in the world.
Five Great for Hot Chocolate
Runners up: Angelina, Café de Flore, La Charlotte de l'Isle, Christian Constant, Queen Ann, Le Danton
Reject: Carette
About our process: For each topic, we begin with a little research to identify options. We then ask our readers, by posting a question in the forum, to offer additional suggestions. From that discussion, we compile a list of candidates and ask our panel of contributing advisors to rank their top choices and identify any rejects. Their rankings are weighted, analyzed, and compiled into a new Five Great post every week. Runners up are places who received more positive votes than negative comments. Rejects are places that received only negative comments with no positive votes.