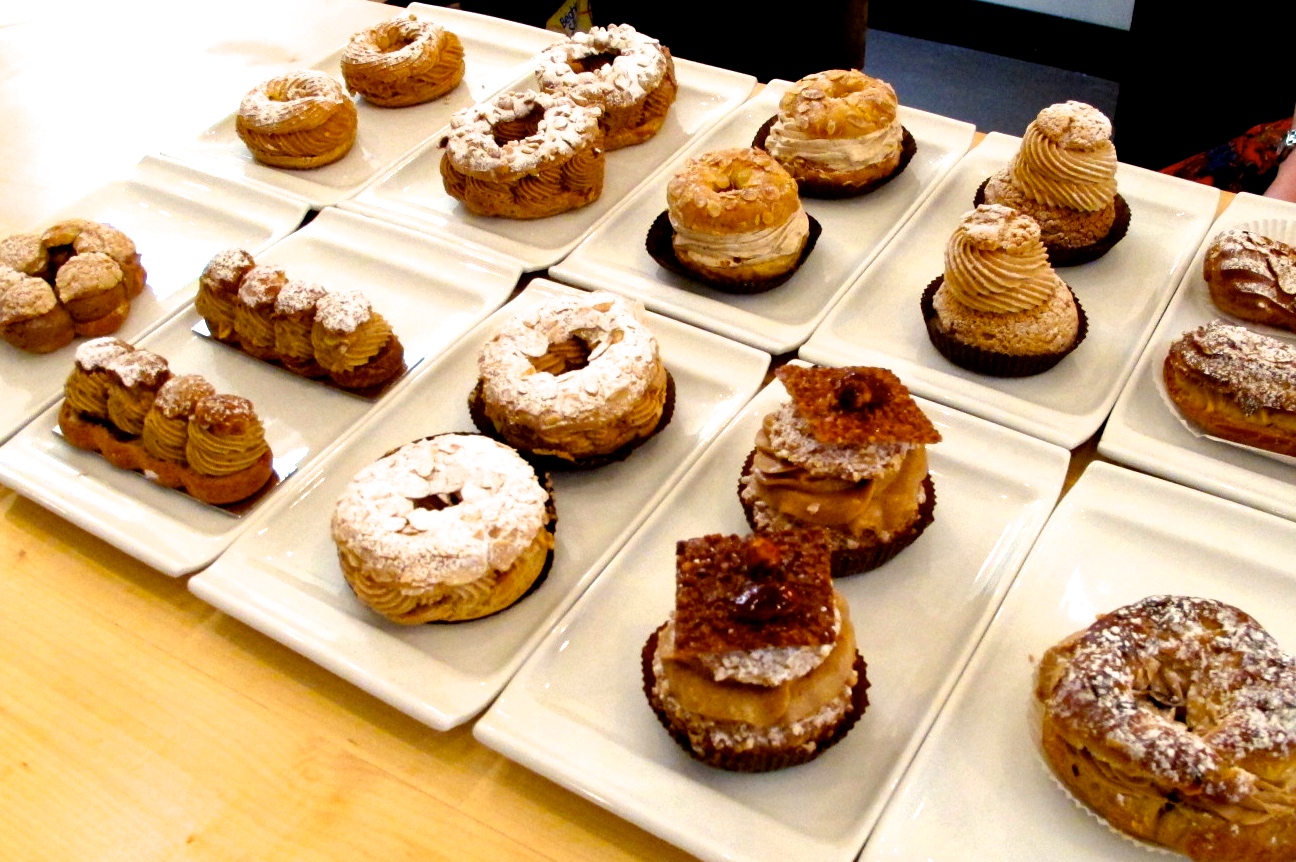 We collected the best examples of classic & creative interpretations, and invited a panel of food experts & enthusiasts to evaluate them in a blind taste test. 
Our Five Favorite Paris-Brest
The Paris-Brest is traditionally a wheel of choux pastry sliced in half, filled with hazelnut praline cream, and topped with a crispy crust of slivered almonds and powdered sugar. It was invented in 1910 by pastry chef Louis Durand to celebrate the Paris-Brest bicycle race that pedaled from the city center past his shop in the western suburb of Maisons Laffitte and out to Brittany each year. Since then, the dessert has become a classic and is found in pastry shops all over Paris. But who makes the best?
Already widely regarded as one of the city's best Brest, our panel  confirmed that Philippe Conticini's wheel truly is the stuff of dreams. The pure hazelnut flavor, enhanced by the bakery's signature runny praline river, rocketed this pastry to the top. Lindsey Tramuta praised the "excellent balance, perfect nutty flavor, and airy crispiness of the pâte," and Meg Zimbeck "loved that it had so much salt to balance out the sweetness."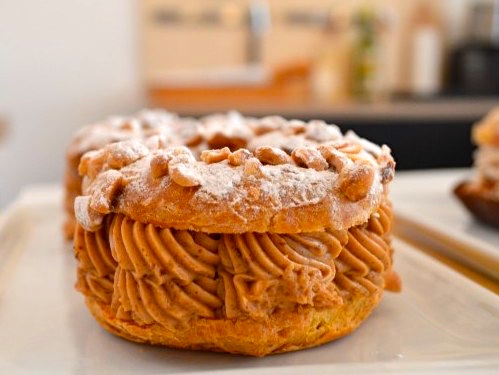 This Paris-Brest exhibited "such a purity of nut flavor with such incredible balance," according to Meg Zimbeck. Unfortunately for our readers, it's only sporadically available. Genin stopped offering his full range of pastries for takeaway purchase backed in 2013, but customers who stop into his shop and tea salon in the northern Marais can roll the dice (or call ahead) and hope they're making Paris-Brest on the day of their visit. A special party size version can also be special ordered in advance. It's worth the effort for a dessert that Sophie Doran called "a fluffy mouth party with winning, crunchy nut texture and visible vanilla bean yumminess." Diane Ruengsorn enjoyed "the nice crunch with the bits of hazelnut" on top.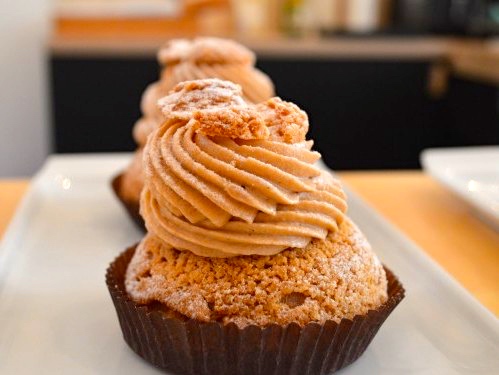 This surprise winner, from a newer bakery noted more for their breads, stood out because of a ribbon of salty and thick hazelnut praline hidden beneath layer of lighter hazelnut cream. For Julie Neis, "the texture of the choux was perfect. Heaven in my mouth!" while Lindsey Tramuta liked the "strong flavor with balanced blend of sweet & salty" and "could have eaten the whole thing!"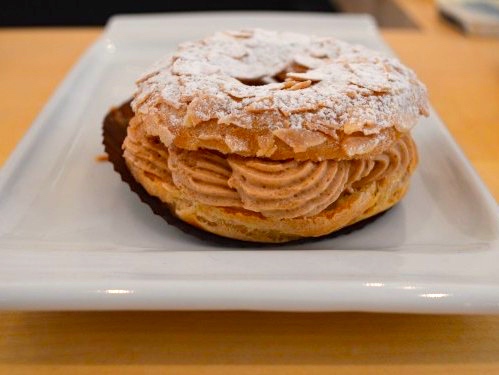 It's no surprise that this wheel ended up on this list: Le Moulin de la Croix Nivert won the top prize in the city's best Paris-Brest competition in 2015. This one surprised Julie Neis the most as she thought "it looked pale and boring, but in the end the texture and flavor were really enjoyable." Claire Moriarty liked the "especially smooth texture balanced by toasted nuts on the exterior" but the choux was crunchy to the point of contention. Lindsey Tramuta found it "a tad too crisp" and Sophie Doran declared that it gave off "dry biscotti vibes", but Meg Zimbeck found that the crispness set this one apart from the pack in a positive way.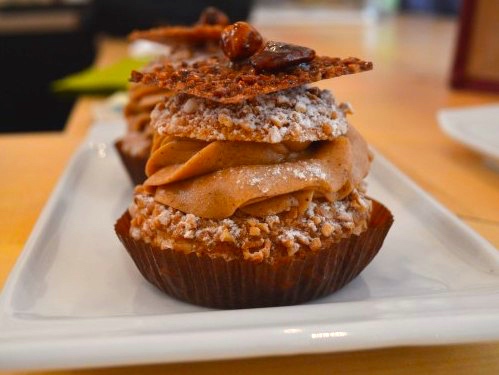 This was one of the most visually stunning and creative options, but their hazelnut cream also suffered the most over time. Claire Moriarty found it "shiny, oily, almost too slick," and Meg Zimbeck echoed that it was "very oily and a bit burned on the bottom, but that adds a grilled note and some bitterness to round out the sweetness of the toffee on top." Sophie Doran found the flavors fascinating. "Silky, oily, crunchy, salty, sweet caramel – pastry contradictions at their absolute peak. It was all of the things that remind me of Brittany." As Julie Neis put it, it's "unique and fun, but a hot mess after you slice it up."
Of Note
It's truly worth seeking out the top quality bakeries for a premium Paris-Brest. There was a 12 point difference (on a scale of 20) between the first place finisher Pâtisserie des Rêves and the bottom two candidates, which were sourced from average neighborhood bakeries.
The pastries that ranked lowest were knocked for a variety of reasons including but not limited to: grittiness,  unappealing aftertaste, "tasting like eating a big block of almost spoiled butter",  being cloyingly sweet, notes of fake amaretto, stale tasting pâte à choux, and worst of all, no hazelnut flavor. We have declined to report on the desserts which didn't rate among our top five.
Our Process
For each tasting panel, we select ten bakeries based on background research, and the advice of trusted experts and our readers via Facebook and Twitter. In addition to tasting the most well-known examples, we source 1-2 pastries from standard neighborhood bakeries to allow the judges to compare what's on offer at an average local pâtisserie.
Pastries are purchased anonymously no more than three hours in advance and then transported to a tasting space where they are photographed and tasted blind by our panel.
Out of a total 20 points, each pastry is evaluated for flavor, texture and aesthetics, with the first two categories more heavily weighted. Panelists individually order their favorites at the end, then vote as as group on the overall panel ranking for the top five favorites.
Our Criteria for a Premium Paris-Brest
Flavor (8 points)
Pâte à choux:
A puffy, hollow dough of cooked butter, flour, and water that is mixed with eggs then baked till golden brown.
Choux should provide structure and be delicately flavored so as not to distract from the star of the show: praline cream.
Praline Cream:
Regardless of whether the filling is composed of a mousseline, a sweetened cream, or a pastry cream, toasted nuttiness should be the dominant flavor.
Strong, present hazelnut taste that evokes freshly roasted nuts should always balance with the tanginess of the cream filling.
Salty Sweet Balance
A hint of salt leavens the sweetness of the praline cream.
Texture (8 points)
Pâte à choux:
Should be airy & crisp yet also needs to be sturdy enough to withstand the weight of the filling.
Can get soggy with time, heat or humidity. An excellent one will have a fundamental crispiness that doesn't sag or taste stale.
Praline Cream:
Should be firm enough to hold stiff peaks and stably balance the pastry lid on top, thus giving the impression of a plump tire. The hazelnut purée should be thoroughly incorporated and the mixture should be smooth and silky, but not runny.
There should be no gritty or waxy residue on your tongue..
Balance:
There should be a good textural contrast between chou and cream.
Aesthetics (4 points)
Wheel Shape:
The pastry was invented as an homage to a bike race so a circular shape that mimics a bike wheel is integral. It should be piped into rings that rise thoroughly and have the structural integrity to be sliced in half and filled.
The praline cream should be neatly piped and hold its form.
The Judges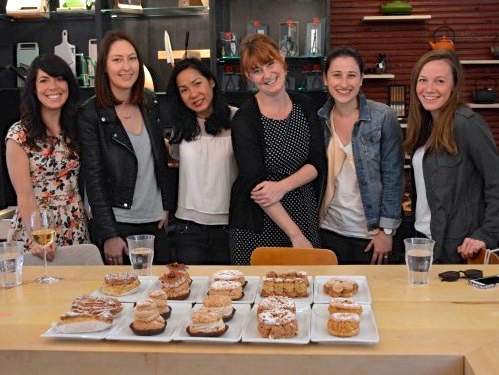 Many thanks to the Japanese Knife Company for hosting us in their beautiful event space and to our panel of judges that included:
Additional reading: