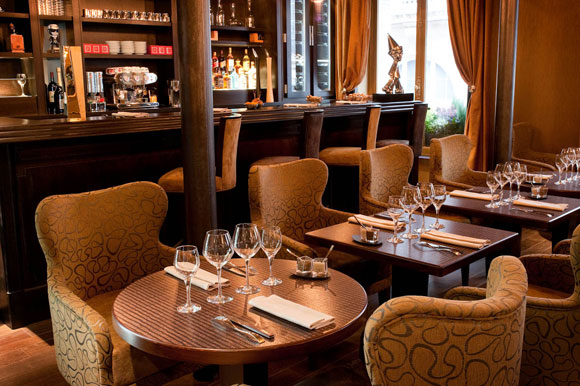 This is no longer included among the favorite 350 addresses that make up 
Our Guide to Paris Restaurants
. We've maintained this page so that you can refer to the practical information and other reviews of interest. Feel free to share your own opinion in the comments.
Practical information
Address: 2 rue Cambon, 75001
Nearest transport: Concorde (1, 8, 12)
Hours: Lunch and dinner, Tuesday-Saturday; closed Sunday and Monday
Reservations: Book a few days in advance
Telephone: 01 42 61 31 15
Website

View a map of all of our restaurants here.
Average price for lunch: 35-49€
Average price for dinner: 50-100€
Style of cuisine: Classic French
Special attributes: valet parking
Type of crowd: style hounds, neighborhood locals
Interior: elegant and luxe
Atmosphere: formal
Reviews of interest
Alexander Lobrano (2010) "It's a good looking place…The welcome we received was truly courtly… If the gelee of my oeuf lacked the punch of beef bouillon with a little Madeira that I'm always looking for, the egg itself was correctly runny, and my blanquette de veau was tender and full of flavor…If it weren't so expensive, I might even be tempted to go back…"
John Talbott (2010) "…major league prices…I had a blanquette of veal where the toughness of the veal was only saved, in fact enhanced, by a terrific sauce with tiny marinated mushroom caps; I made good use of the good bread for finishing it…"
Emmanuel Rubin – Figaroscope (2010) "Huîtres n° 2 spéciales poivre de Madagascar, saucisse grillée : justement, le poivre, quelques grains en moins et c'eut été parfait. Blanquette de veau aux légumes : d'ores et déjà, l'une des rares qui se tiennent à Paris…"
About our listings
Our best efforts were made to insure that information provided was accurate at time of publication. Have a correction or update? Send it here.