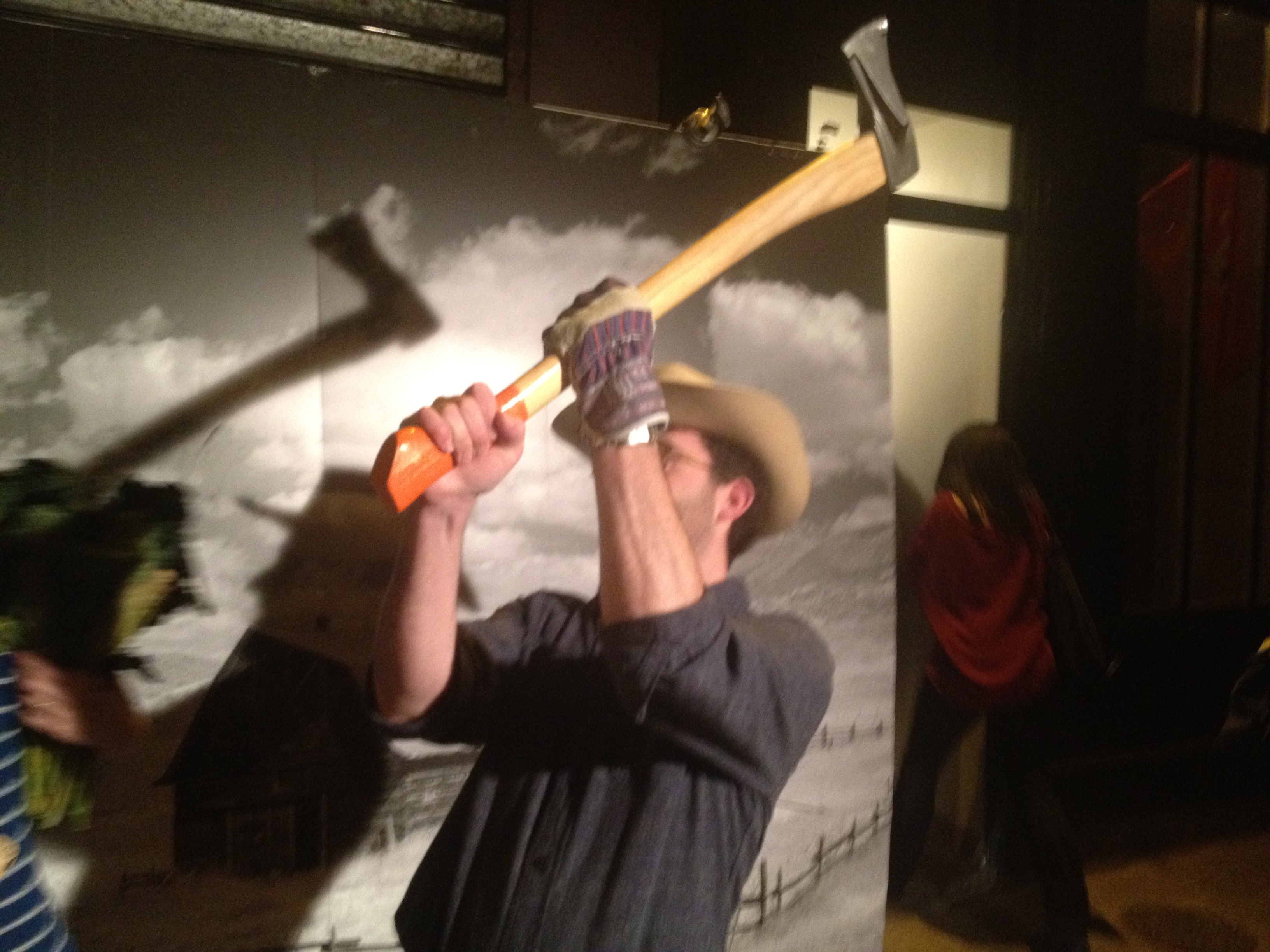 [portfolio_slideshow]
If 2012 was the year of the Paris food truck, 2013 may well be the year of the Paris pop-up. Ephemeral restaurants are a burgeoning trend in Paris, galvanizing guests with the promise of a singular and exclusive experience.
Still, the pop-up concept remains somewhat ambiguous, its iterations increasingly varied. For young chefs unprepared for the lofty investment of a permanent restaurant, the format is an economical way to build name recognition or hype before a "real" opening. The Top Chef Finalist Pierre Sang followed this route, sharing his talents in a number of cities throughout France before opening his Paris restaurant.
Pop-ups can also serve to facilitate cross-cultural culinary exchange, as we saw last year when both Le Fooding and Omnivore brought Paris chefs to cook in New York. More recently, a pair of young entrepreneurs are trying to execute the return flight by bringing some of their favorite New York chefs to Paris.
Jenny Capano and Tara Gilson call this idea The Sporting Project and held their first round of dinners in September 2012. With a background in fashion and dinners anchored to the Paris fashion calendar, Capano and Gilson's first effort featured NYC's The Fat Radish at Bob's Kitchen and attracted a who's who of international style titans. For the second round of dinners, which will take place from January 16-20 at Bob's Kitchen, they're partnering with the tony West Village restaurant Hudson Clearwater and hoping to reel in curious locals with a mixed crowd, a new twist, and a lower price point. We chatted with Capano and Gilson to learn more about their pop-up project and what they hope to add to the Paris food scene.
How does your project fit into the pop-up trend?
Gilson:  Our version is taking a restaurant that currently exists and literally having them set-up shop in Paris for a week. This means the owners and chef(s) themselves come to Paris to recreate their restaurant and showcase their talents. We work with them to set up a very unique dining experience that resembles their own restaurant as closely as possible, right down to food, atmosphere and vibe. It's only for one week so it's fast, fun and memorable.
What can we expect from this week's dinner with Hudson Clearwater?
Gilson and Capano: A unique four-course menu designed specifically for the Paris pop-up, with signature cocktails served by restaurant's bartenders, plus live music, also courtesy of Hudson Clearwater. Of course some other fun surprises for the diners to enjoy are in the works but we can't give it all away.
What in particular attracted you to this format? Were you inspired by pop ups in other places? 
Gilson: Coming from a background in fashion rather than hospitality, we find that our strengths are in gathering all the pieces of the puzzle and making them work together. In other words, we bring together the culinary talents, environment and other artistic elements to fully execute the dinners while the chefs work their magic in the kitchen. We were particularly inspired by our travels where our fondest memories have always been the food and the people we met along the way.
Capano: I think what is so exciting about the format is that they are always changing. The discovery and the madness in actually pulling it off leaves us exhausted but incredibly excited and motivated about what we can do with it next. I'm most inspired by what I've seen in New York, London and Buenos Aires – here, I loved the 'closed' door restaurants, chefs opening up their homes and offering a four-course tasting with wine pairing.
Would you say this project reflects a passion for food or do you view it more as an extension of fashion and lifestyle ?
Gilson:  It definitely comes from our passion for food and for experiences – again, the penchant for bringing people together around the dinner table for an exchange over good food, good wine, and good company. And when you bring a New York restaurant to Paris, as our pop-up model is designed, it combines our passion for our two most-beloved cities.
Capano: What we bring to the table fits into a lifestyle we want to project for people.
What were your biggest takeaways from the first event and what needs to happen for you to reach your ideal setup?
Capano: The first event was a whirlwind. We were so happy with the success but of course there were a lot of bumps in the road.  It's all a learning experience and we can't stop thinking of how we can improve.  One of our strengths in the first series was working with Family Band NYC who organized the photo installation in the streets. We think it's key to have that third party collaborator. Our biggest weakness was reservations which proved to be really tough for us. The space at Bob's Kitchen is small and it killed us that we had to turn people away.  For Hudson Clearwater, we are staying open later and not booking out the second seating so that we can leave space for walk-in's.
How do you intend on evolving the experiential aspect of dining in the next event ?
Gilson: This time, a big change will be keeping the pop-up open until 2am for cocktails so if we are full with reservations, people can simply pass by for a drink to check it all out. Our cocktail service will start around 10:30pm each evening and include small plates. It was really important for us to be able to connect with people that were interested in the pop-up so 'cocktail time' should be a great help.
Capano: Plus the live music element!
Why should out-of-towners with limited time in Paris consider reserving a spot at one of your dinners? 
Capano: For the food, of course, but also for the experience to see the fusion of Paris and NYC/Brooklyn culture for a limited engagement.
What's next for The Sporting Project?
Gilson:  In addition to planning future New York restaurant pop-ups for March and June, we have partnered with Marc Grossman and Amaury de Veryac of Bob's Kitchen (who are currently hosting our pop-up dinners) to launch the very first cold pressed juice line in Paris – think freshly bottled organic veggie and fruit juices available for delivery all around Paris as well as in our shop in the 11th.  The venture is called Bob's Cold Press where we will also introduce our custom designed 3–5 day juice cleanses, launching early March.
**
The Sporting Project featuring Hudson Clearwater at Bob's Kitchen
January 16-20, 2013
55€ four-course menu
For reservations send an email to: reservations@thesportingproject.com
To watch a promotional video about their first dinner series, click here