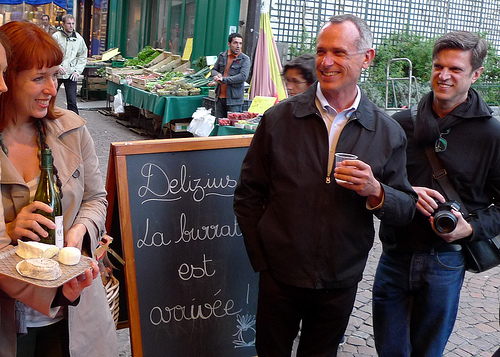 What's the difference between the neighborhood tours? We've designed all of our small group neighborhood food tours include a wide array of delicious French treats. The selection on any tour will vary according to the season and the specialties of specific shops, but we like to cover the classics: bread, cheese, charcuterie, sweets and wine. If you join us for more than one neighborhood tour, our guides will be sure to highlight different choices on each route. See our calendar of upcoming food tours here, and send an email to tasteparisbymouth@gmail.com with any questions.
How much food is included? The price of your participation in a small group tour includes generous tastings at some of the city's most prestigious food shops. As food writers with a reputation to defend, we refuse to visit mediocre shops or to be stingy with our servings. Most people feel full after a tour and don't need to follow it immediately with a meal. However, to be clear, we are visiting food shops and not sitting down at a restaurant.
I don't consume meat/dairy/gluten/alcohol/etc – can I still take this tour? Our small group tours comprise many different tastes. If you're not able to eat something, there should be plenty of other highlights for you to enjoy. However, if there are several different food categories that you're not able to eat, you might consider a private tour adapted to your specific needs.
How much walking will there be? We pack in a lot of tastes during our small group tours and spend very little time sitting down. If you're not able to walk and stand for three hours, you might consider a private tour adapted to your specific needs.
Can I bring my kid(s)? Our tours are explicitly designed for adults and feature adult flavors (often including wine), and detailed discussion. We rely on parents to determine whether their children would find this tolerable, and to maintain responsibility for their young ones at all times. No discounts for kids.
What happens if it rains? Our tours run rain or shine and we highly recommend bringing an umbrella or rain gear just in case. We'll be protected while in the shops but exposed to the elements when we walk between them.
How far in advance do I need to book? Our scheduled small group tours are often sold out 1-2 weeks in advance.
The tour I want to join is sold out. Can you squeeze us in? Unfortunately, the answer is usually no. Because of our focus on outstanding shops, which are often tiny and formal, we're simply not able to bring a large group. We also prefer (and our clients agree) the intimate atmosphere of a small group. Feel free to join the wait list for any sold-out tour or to send an email to tasteparisbymouth@gmail.com.
I want to book farther in advance than the dates shown on your schedule of upcoming tours. We hear you, and we're working on posting dates a little farther into the future. However, because our tours are led by food & travel writers who don't have fixed travel schedules, it's difficult to advertise tours more than 1-2 months in advance. Feel free to send an email to tasteparisbymouth@gmail.com with your travel dates and we'll do our best to plan something for you.