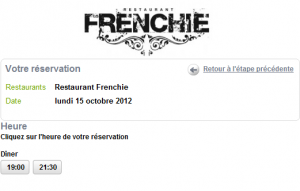 Until now, scoring a reservation at Frenchie has been, as François Simon so eloquently put it, "simply hell. The gates of prison must be more welcoming."
The difficulty has stemmed from their (rather understandable) inability to attend to the hundreds of phone calls they receive every hour. To ameliorate the situation, Frenchie has just opened online reservations.
This doesn't mean you're going to have an easy time getting in. Reservations in the near-future have already been snapped up, and the online system won't accept reservations more than one month in advance. As soon as more people know about the online option, the only way to score a table on October 24 will be to book on September 24 as soon as reservations open for the day.
The result of all this may be a dining room full of traveling Americans. Who else, besides New Yorkers who have already mastered the ritual for Momofuku Ko, are going to get up early (or, because of the time difference, stay up late) to try and be the first to book online exactly one month in advance?
Related links: