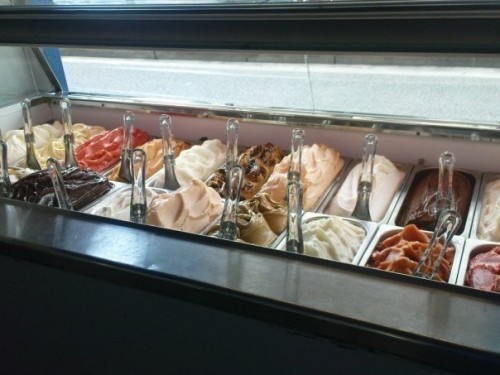 Photo courtesy of Gelati d'Alberto's Facebook page
Your choice of flavors will be formed into a rose shape at this popular gelato shop. Two locations.
Practical information
Address: 45 rue Mouffetard, 75005
Nearest transport: Place Monge (7)
Hours: Open every day
Telephone: 01 77 11 44 55
Website
[cetsEmbedGmap src=http://maps.google.com/maps/ms?hl=en&ie=UTF8&msa=0&msid=202475318786031781734.0004a3ee771fcc5a407e7&ll=48.853364,2.351933&spn=0.02773,0.076733&z=14 width=500 height=325 marginwidth=0 marginheight=0 frameborder=0 scrolling=no]View a map of all of our ice cream shops here.
Additional locations
Address: 12 rue des Lombards, 75004
Nearest transport: Chatelet (1, 4, 7, 11, 14)
Hours: Open every day
Telephone: 01 77 11 44 55
Our best efforts were made to ensure that information provided was accurate at time of publication. Have a correction or update? Send it to parisbymouth@gmail.com
Reviews of interest
Time Out (2012) "Once you've tasted the classic flavours, try the Nutella, green tea or even the vodka Red Bull varieties. The more flavours you choose, the prettier your ice cream flower becomes. On a sunny day, rows of expectant ice cream buyers snake their way along Rue Mouffetard, so be prepared to queue."
Figaroscope (2010) "Alberto, c'est le poète du froid, l'homme qui perpétue la tradition familiale et sculpte ses glaces italiennes à la spatule, leur donnant des formes de pétales de rose…"