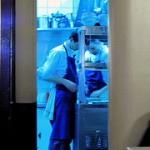 Some of our favorite Paris tables are impossible to book at the last minute. The spaces are tiny, the chefs are brilliant, and everybody wants to go. If you're traveling without a phone or simply haven't planned ahead, you're probably not getting in.
…not without our help, anyway.
Beginning this week and continuing throughout the summer, Paris by Mouth will be booking hard-to-get tables and giving away the reservations to our hungry readers. Note: we're not paying, we're just getting you in.
This week's reservation:
Le Chateaubriand, the restaurant from Iñaki Aizpitarte that was recently ranked as #11 among the World's 50 Best Restaurants (the highest rank of any Paris restaurant).
How the game works:
If you want to snag this 9pm reservation on Friday June 11th, just leave a comment telling us how many seats you'd like to have (up to four) and why you want to eat at le Chateaubriand. Our editors will choose the winning comment(s) and contact the readers by 9am on Friday morning. You can earn extra favor by retweeting our announcement on Twitter (@parisbymouth) but this isn't required.
Good luck and (for the winners) bon appétit!