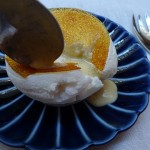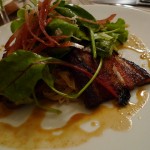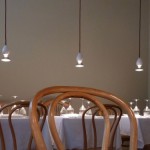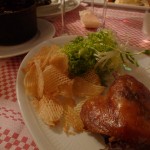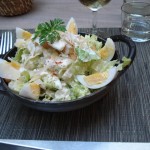 We don't recommend visiting the Eiffel tower without a solid plan for eating, whether to fortify yourself for the wait or to restore your sanity after the harrowing elevator ride. Here are some tables to consider that don't require a crosstown trip.
La Table d'Aki  Akihiro Horikoshi left haute cuisine fortress L'Ambroisie to open this little showcase for his talents which, according to reviews, are many. Patricia Wells calls his cooking "pure, simple, and sensational in an understated way."
Also on the high end, there's Jean-François Piége and, downstairs, though you might be better off avoiding Thoumieux, which is just downstairs. And, of course, the Ducasse-run Le Jules Verne, which is in the tower itself (though here we've heard mixed reports).
Alain Milliat Known for his exquisite juices and nectars, fruit man Alain Milliat is now in the restaurant business, serving a fresh and colorful (but limited!) menu at lunch and dinner, and open for afternoon tea and coffee, if a drink and snack is all it takes.
Pottoka If you believe everything tastes better deep fried, try this Basque address from the guys behind fine fish favorite Les Fables de La Fontaine (which, actually, is another one to consider).
Le Casse-Noix A charming neighborhood bistro, with an antique-filled room and generous, updated bistro cooking. Don't miss the ginormous ile-flottante.
Another neighborhood bistro option is Le Petit Cler a well-priced, casual spot from the La Fontaine de Mars. La Fontaine is pricier, but the classic Southwestern cooking satisfies. Downstairs is brassy and boisterous, while a series of pretty rooms upstairs offers a quieter experience (though it can feel like an Anglophone ghetto).
Les Cocottes Crowd-pleasing, contemporary comfort food from Christian Constant, who is all over the rue Saint Dominique. The no-reservations policy means there could be a wait, but also gives you more flexibility, and makes this a good last-minute option, as would Café Constant which serves classic café and bistro fare all the live long day, and also takes no bookings.
Of course, in warmer weather you can picnic on the Champs de Mars. Pick up provisions nearby at boulangerie Secco and cheese mongress extraordinaire Marie-Anne Cantin.

View Restaurants near the Eiffel Tower in a larger map