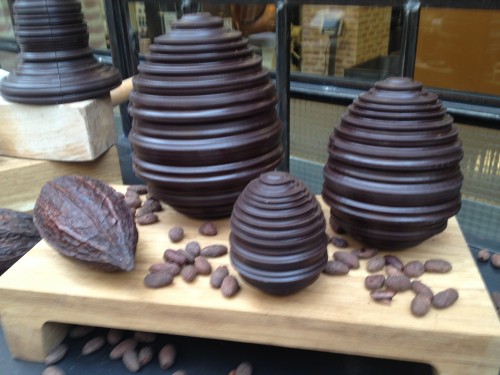 We used to say that "it's impossible to be a top chocolatier and not have a shop in Saint-Germain. Except for Jacques Genin in the Marais." That was later amended to add Le Chocolat Alain Ducasse when it opened near Bastille.
And now both of these outliers are opening shops in Saint-Germain.
The wonderful site Painrisien recently tweeted a picture of the storefront window at 26 rue Saint-Benoit, advertising the imminent arrival of Ducasse. That means you'll soon be able to buy a box of bonbons and eat it while standing in line for Le Relais de L'Entrecôte.
The left bank outpost for Jacques Genin is more of a distant dream, but they confirmed that they are indeed looking for a space near Saint-Germain or Saint-Sulpice. He's a bit busy right now painting several hundred chocolate eggs but hopes to return to the search sometime after Easter.
Just to recap, here's a list of our favorite chocolatiers in and around Saint-Germain. Additional listings can be found in Our Guide to Chocolate Shops.
Saint-Germain
Henri Leroux
Jean-Charles Rouchoux
Jean-Paul Hévin
La Maison du Chocolat
Patrick Roger
Patrice Chapon
Pierre Hermé
Pierre Marcolini

Pretty Close to Saint-Germain
Franck Kestener (eastern side of Luxembourg Gardens)
Michel Chaudun (near Chez l'Ami Jean)