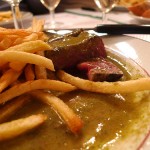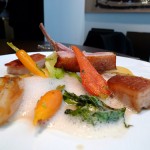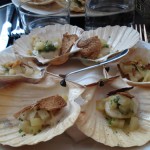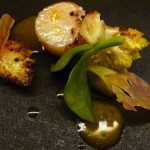 Unless you're on an all-chocolate diet, this can be a frustrating food neighborhood. Prices are high, quality is questionable. But with a batch of new openings over the past year to add to our old favorites, we're no longer stumped by the (frequently asked) question: "I'm staying in the 6th arrondissement. Where should I eat?"
Here's a short list. Click on the restaurant names for practical information.
New
Semilla "Fresh, sincere, tender and young," is how Alexander Lobrano describes the food at the latest address from Juan Sanchez and Drew Harré, staffed by a Meilleur Ouvrier de France and a batch of recent grads of the École Ferrandi.
Pinxo  Alain Dutournier has opened a left bank outpost of the rue Alger original, where shareable, Southwestern small plates are served in "a tempting trio of three significant bites of each dish, focusing on all the finest ingredients of the region," says Patricia Wells.
Newish
Agapé Substance Of-the-moment cooking that's both high-tech and hyper natural, served with a side of pretense, from Arpège and Mugaritz alum David Toutain.
Little Breizh Forget that crêpe cart outside the Metro exit and head here for a proper galette de sarrasin (made with organic ingredients, to boot) and a cup of cider. Kid- and wallet- friendly.
Oldies but goodies
Le Comptoir du Relais Yves Camdeborde's now-classic neo-bistro is still going strong. Stand in line for lunch (and dinner on the weekends, too) or book well in advance for the unique menu weeknight dinner.
L'Avant Comptoir We'll always go back here for the ham croquettes and well-priced wines, despite uneven service and the crowd that packs into the standing-room-only space during prime time. Ladies: Don't wear open toed shoes here.
Ze Kitchen Galerie John Talbott would be remiss if we left off his beloved Ze, William Ledeuil's fab fusion institution.
Huitrerie Régis Get your iodine fix with a platter of gorgeous fines de claires at this oyster specialist.
Le Relais de L'Entrecôte This stalwart for steak is a mill, but we love it, from the bossy serveuses, the endless frites and addictive sauce to the classic desserts. The no-reservations policy makes it good for phone-phobes or a last minute plan, provided you don't mind waiting to be seated.
Cosi When a sandwich is all it takes, go for one of the best in town, served in a pocket of warm, focaccia-like bread that's straight from the oven.
[cetsEmbedGmap src=http://maps.google.com/maps/ms?msid=202475318786031781734.0004bea6da8a07b2f3c4e&msa=0&ll=48.854127,2.338285&spn=0.015898,0.038581 width=500 height=375 marginwidth=0 marginheight=0 frameborder=0 scrolling=no]
What are your go-to addresses in this part of town?