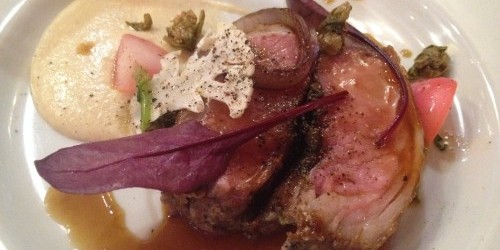 What used to be a friendly wine bar run by the inimitable Tim Johnston is now a friendly wine bistro run by Tim's daughter Margaux and her boyfriend Romain. The fresh market cooking from Romain (formerly at Le Comptoir and La Régalade Saint-Honore) goes well beyond the satisfying sausage & mash of the old carte and Margaux's service and wine selections make this the sort of place where you'll want to become a regular. Desserts are delicious, but their selection of British cheeses with recommended wine pairings is my favorite way to finish. On your way out, buy a bottle from the shelves to bring home.
– Meg Zimbeck, May 2016
Practical information
Address: 47 rue de Richelieu, 75001
Nearest transport: Pyramides (7, 14)
Hours: Closed Sunday & Monday; Open Tuesday-Saturday for lunch & dinner
Reservations: Book a day or two in advance
Telephone: 01 42 97 46 49
Average price for lunch: 20-39€
Average price for dinner: 20-39€
Style of cuisine: Classic French
Website   Facebook
Reviews of interest
Simon Says (2015) "La cave bouge bien en conservant son penchant pour d'exquises manzanillas et de fiers Jerez et bien entendu les côtes du Rhône. Il y a toujours cette clientèle de quartier additionnée de visiteurs anglo-saxons. Ces derniers ont toujours le sens du plaisir présent et cette inclinaison à être heureux au dessus d'un foie gras de canard maison (13,50€) et d'un riesling australien (9€). Et puis, chapitre ultime et fatal, il y'a là Margaux et sa gentillesse à fondre."
David Lebovitz (2014) "They serve the kind of food that I'm looking for when I want unfussy, but well-prepared, French cooking. There are no silly garnishes or gimmicks. You'll find slow-braised meats, house-made terrines, and attention paid to vegetables and herbs."
The Financial Times (2014) "Juveniles wine bar has been offering hand-picked bottles from outside France since it opened in 1987 – particularly from Spain and, currently, the southern hemisphere… primarily a wine bar and an increasingly serious restaurant…"
New York Magazine (2014) "Every time I eat here, it gets better and better. Try the gnocchi with poached chicken and fava beans, and beautiful cod with piquillo peppers and potatoes."
The Financial Times (2014) "Too many French chefs see vegetables as second-class – but not 26-year-old Romain Roudeau" who "kept certain dishes from the previous menu, notably the Macsween haggis and a couple of English cheeses" but also "composed an intriguing, great-value menu."
Simon Says (2014) "La maison a juste reçu un petit coup de plumeau. On a rangé les étagères, retapé la cuisine avec une bonne nouvelle pour le fan-club de l'adresse : dorénavant, on y mange plus que bien."
Not Drinking Poison in Paris (2011) "They were quite good cheeses. But two cheeses is two cheeses, a pair, not an assortment by any stretch of the imagination. At 14€ for the plate, it was the sort of thing to make one regret not being a tourist, shortly to quit the country forever. The insulting cheese plate, however, is intimately connected to what I did love about Juveniles, and what may someday induce another visit: the sherry list. A sherry list!
John Talbott (2007) "… crostini with a lovely sauce and melon slices with ham with some wine and had a nice quick bite to eat."