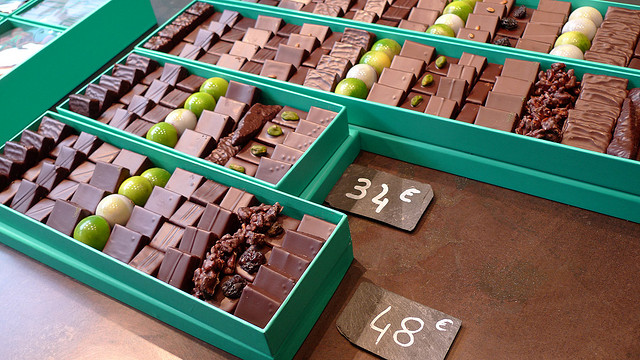 Paris does chocolate like no other city, but the bean is not the only bonbon in town: Exquisite candy shops showcase regional French sweets and hard-to-find chocolates from small producers outside of Paris. Here are all of the chocolate and candy shops in our listings.
75001
What the Icons Mean

An absolute favorite


A great neighborhood option
More Resources
Our Five Great lists:
• For hot chocolate
• For a box of chocolates
See these shops on a map.
Browse Other Categories

Restaurants

Bakeries and Pastry Shops

Wine Bars

Wine Shops

Ice Cream Shops
Cheese Shops

Specialty Shops

Cafés & Tea Salons
Fouquet


Hugo & Victor
La Maison du Chocolat
Jean-Paul Hévin
Michel Cluizel
Pierre Hermé
75002
75003
Jacques Genin

75004
Georges Larnicol
Josephine Varnier
Pralus
75005
Franck Kestener


Gregory Rénard


Le Bonbon au Palais


Sadaharu Aoki
75006
À la Mere de Famille
Christian Constant
Georges Larnicol
Henri Leroux


Jean-Charles Rouchoux


Jean-Paul Hévin
La Maison du Chocolat
Patrick Roger


Pierre Hermé
Pierre Marcolini
Sadaharu Aoki
Un Dimanche à Paris
75007
À la Mere de Famille
Debauve et Gallais
Foucher
Gregory Rénard


Hugo & Victor
Jean-Paul Hévin
Michel Chaudun
Patrice Chapon

75008
Fauchon
Fouquet


La Maison du Chocolat
La Petite Rose
Patrick Roger

75009
À L'Étoile d'Or


Fouquet


La Maison du Chocolat
Le Valentin
Pierre Marcolini
75010
75011
Le Chocolat Alain Ducasse

75012
75015
Gregory Rénard


Pierre Hermé
Sadaharu Aoki
75016
À la Mere de Famille
La Maison du Chocolat
Patrice Chapon
Patrick Roger
Pierre Hermé
Régis
Servant
75017
75018