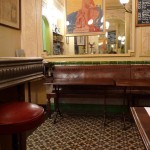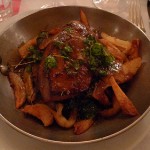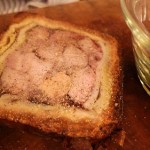 The Ducasse group runs this longstanding address for Lyon-style cooking.
Practical information
Address: 32 rue St. Marc, 75002
Nearest transport: Richelieu Druout (8, 9) or Bourse (3)
Hours: Lunch, Tuesday-Friday; open Saturday for dinner only; closed Sunday and Monday
Reservations: Book a few days in advance
Telephone: 01 42 96 65 04
Website

View larger map View a map of all of our restaurants here.
Average price for lunch: 20-34€
Average price for dinner: 35-49€
Style of cuisine: French – Lyonnais
Special attributes: prix-fixe, market-based cooking, comfort food, historic space
Type of crowd: suits, foodies, tourists
Interior: charming & traditional
Atmosphere: casual
Reviews of interest
François-Régis Gaudry (2013) "Un boudin à la lyonnaise, façon tranche épaisse snackée. Pas mal, à la fois légèrement croustillant et fondant à coeur, bien relevé… je n'ai rarement mangé des patates frites aussi desséchées et racornies. De deux choses l'une: soit il s'est passé une bonne semaine entre les deux bains de friture soit la pauvre pomme de terre s'est coltiné cinq bains d'affilée!"
Meg Zimbeck (2010) "Wikipedia says that 'the emphasis in a bouchon is not on haute cuisine, but rather, a convivial atmosphere and a personal relationship with the owner.' If that's true, then Aux Lyonnais, with its apathetic service and absentee owner, is a spectacularly failed bouchon."
Barbra Austin via Girls' Guide to Paris (2010) "The room is gorgeous, a warm belle epoque space, with ornate molding and mirrors, filled with the kind of bright, buttery light that seems to exist only in Paris… there is something archetypal about the way the space looks and feels, and that fulfills many dreams of the Perfect Paris Restaurant."
Caroline Mignot (2009) "…un foie de veau servi rosé (comme on m'a demandé de le préciser), la peau résiste un peu sous le couteau pour faire découvrir un cœur fondant…et ces pommes de terre taillées en frites, enveloppe croustillante, intérieur fondant…Je me régale…"
François Simon "C'est certain, aux Lyonnais d'Alain Ducasse, toute roule impeccablement…"
The New York Times (2005) "Here, the gutsy food is prepared with great attention, and the service is better than average. (You have to figure that Mr. Ducasse's staff is reasonably well trained.) I've eaten my way through the menu and have yet to find a nondessert dish that I didn't adore."
Chocolate & Zucchini (2004) "I set my heart on it because I know Maxence is partial to authentic historical settings, and has a weakness for charcuterie and down-to-earth popular dishes : he is known to eat pied de porc, oreille de cochon or croustillant de tête de veau without batting an eyelash, so I thought Aux Lyonnais would cater to this penchant."
About our listings
Our best efforts were made to ensure that information provided was accurate at time of publication. Have a correction or update? Send it here.