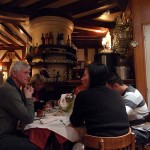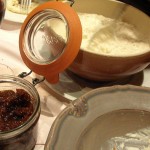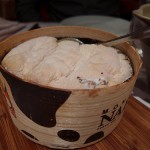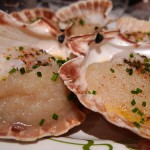 This Breton bistrominique near the Gare du Nord serves a four course feast featuring dishes that are baked in a massive dining room oven.

An absolute favorite
Practical information
Address: 10 rue de Belzunce, 75010
Nearest transport: Poissonière (7)
Hours: Closed Saturday and Sunday
Reservations: Book a few days in advance
Telephone: 01 44 53 06 20

View larger map View a map of all of our restaurants here.
Average price for lunch: 50-100€
Average price for dinner: 50-100€
Style of cuisine: Classic French, Breton
Special attributes: prix-fixe, market-based cooking, prestige ingredients, good for game, open Monday
Type of crowd: suits, foodies, bobos, neighborhood locals
Interior: charming & traditional
Atmosphere: casual
Reviews of interest
Aaron Ayscough (2013) "It's in a fine groove right now, having attained an effortless sweet-spot consisting of informal service, an idiosyncratic, well-priced wine list, and a menu rendered exotic for its unswerving devotion to Bretonne country-cooking."
Patricia Wells (2011) "…impeccable ingredients, some of the best baked-on-premises bread in town…and a blackboard menu that's so varied, every diner should find something to satisfy…the downside: While Chez Michel used to be known for its well-priced menus, I was shocked to see the 50-euro price tag on the blackboard menu…"
Meg Zimbeck (2011) "The new oven enables Breton to collect and use the crazy delicious jus as condiment. There's a flagrant drizzle of these roasting juices atop his starter of scrambled, truffled eggs, but their profoundly comforting flavor permeates other dishes as well."
Bruno Verjus (2011) "Petite soupe de poisson, en mise en bouche, pour les embruns du feu frais safran. Ormeau grillé, ail, persil et racines à la texture délicate et tendre. Lotte au feu du four en croûte feuilletée. Une gourmandise d'un autre temps. L'on en vient à rêver de vagues et de grains s'abattant sur ce Paris en manque d'iode."
Meg Zimbeck (2010) "My fourth visit on a frozen December evening was nearly perfect…A moderate eater can be perfectly happy with the standard three-course €32 menu. A gastronomic god…can splurge on rare and expensive treats and spend more than €160…"
Jerome Berger- L'Express (2009) "L'authenticité se lit sur les murs de cette maison… Côté assiette, cela donne un lièvre à la royale dont les filets sont juste rosés à la minute…"
About our listings
Our best efforts were made to ensure that information provided was accurate at time of publication. Have a correction or update? Send it here.