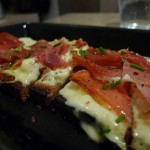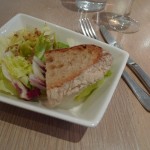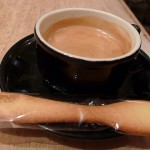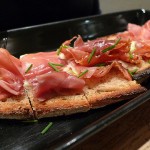 This lunch spot is run by the
Poilâne
people, and features tartines – open faced sandwiches, hot and cold – on their famous bread. Locations in the 6th and 3rd.

A great neighborhood option
Practical information
Address: 8 rue du Cherche Midi, 75006
Nearest transport: Saint Sulpice (4) or Sèvres-Babylone (10, 12)
Hours: Tuesday-Saturday, 8:30 a.m.-7 p.m.; closed Sunday and Monday
Reservations: Reservations not accepted
Telephone: 01 45 48 45 69
Website
and
Address: 38 rue Debelleyme, 75003
Nearest transport: Filles du Calvaire (8)
Hours: Tuesday-Sunday, 8:30 a.m. – 8:30 p.m.; closed Monday
Reservations: Reservations not accepted
Telephone: 01 44 61 83 40

View a map of all of our restaurants here.
Average price for lunch: 10-19€
Average price for dinner: 10-19€
Style of cuisine: sandwiches
Special attributes: vegetarian options, open Sunday (in 3rd), continuous all-day service
Type of crowd: neighborhood locals
Interior: polished & modern
Atmosphere: casual
Reviews of interest
David Lebovitz (2011) "…my previous favorite is the simplest they make: crisp bâtons of pain Poilâne spread with sardine paste, good olive oil drizzled over the top, and a sprinkling of chives…It's one of the best deals in town (currently around €14), especially considering the top-notch quality of the food."
About our listings
Our best efforts were made to ensure that information provided was accurate at time of publication. Have a correction or update? Send it here.