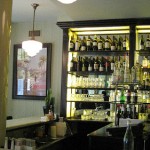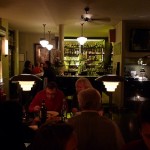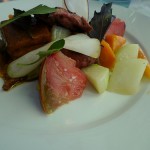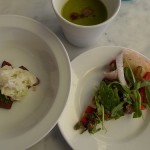 Petter Nilsson's inspired, eclectic cooking drew rave reviews. He's since moved on, but diners are still coming from all corners of Paris to this very good looking address near the marché d'Aligre.
Practical information
Address: 29 rue de Cotte, 75012
Nearest transport: Ledru-Rollin (8)
Hours: Closed Sunday and Monday
Reservations: Book a few days in advance
Telephone: 01 43 47 47 05
Website

View larger map View a map of all of our restaurants here.
Average price for lunch: 20-34€
Average price for dinner: 35-49€
Style of cuisine: Modern French
Special attributes: prix-fixe, small plates, market-based cooking, prestige ingredients, vegetarian options, good for groups
Type of crowd: hipsters, foodies, bobos, neighborhood locals, style hounds
Interior: charming & traditional
Atmosphere: bustling
Reviews of interest
Meg Zimbeck (2010) "Petter Nilsson's cooking—often inspired and always eclectic—has helped establish La Gazzetta as a destination for food adventure…"
John Talbott (2010) "…free-range chicken with a sour orange and rosemary sauce…black cod with razor clams, quite nice and healthy.  Both were on the same bed of cabbage and parmesan, parsley and nuts – lazy, is Petter getting – or for 16 E are the first 4 a bargain? Yes!"
About our listings
Our best efforts were made to ensure that information provided was accurate at time of publication. Have a correction or update? Send it here.