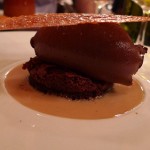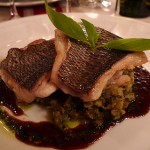 You can't talk about "la bistronomie" without mentioning La Régalade.

An absolute favorite
Practical information
Address: 49 Avenue Jean Moulin, 75014
Nearest transport: Alesia or Porte d'Orléans (4)
Hours: Monday, dinner only; Tuesday-Friday, lunch and dinner; closed Saturday and Sunday
Reservations: Book a few days in advance
Telephone: 01 45 39 71 54

View larger map View a map of all of our restaurants here.
Average price for lunch: 20-34€
Average price for dinner: 35-49€
Style of cuisine: Classic French
Special attributes: prix-fixe, market-based cooking, comfort food, wild game in season
Type of crowd: suits, foodies, neighborhood locals
Interior: charming & traditional
Atmosphere: casual
Reviews of interest
Food Snob (2009) "I thought the dishes, were on the whole, conceptually good, filled with decent flavours and visually pleasant. However, there were some simple errors in execution…"
Le Fooding (2009) "C'est familial, c'est familier, comme la savoureuse terrine de campagne à volonté…"
About our listings
Our best efforts were made to ensure that information provided was accurate at time of publication. Have a correction or update? Send it here.