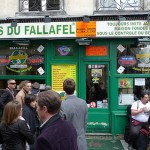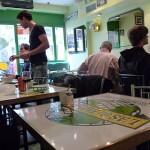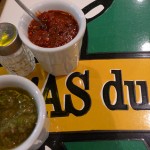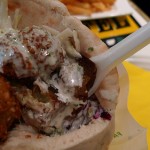 Cheap, messy and seemingly obligatory. The line-averse should probably avoid it on a Sunday afternoon.

A great neighborhood option
Practical information
Address: 34 rue des Rosiers, 75004
Nearest transport: St. Paul (1)
Hours: Closed Friday dinner and Saturday
Reservations: Reservations not accepted
Telephone: 01 48 87 63 60

View larger map View a map of all of our restaurants here.
Average price for lunch: Less than 10€
Average price for dinner: Less than 10€
Style of cuisine: Soups & Sandwiches, Middle Eastern
Special attributes: vegetarian options, good for solo dining, continuous all-day service, open Sunday, open Monday
Type of crowd: hipsters, foodies, neighborhood locals, students, tourists
Interior: bare bones & minimal
Atmosphere: bustling
Reviews of interest
David Lebovitz (2009) "…you can't come to Paris and not have a fallafel at L'As du Fallafel. It just isn't done."
Dorie Greenspan (2009) "…the pita is very thick, which is just what it needs to be because what's tucked into its pocket is heavy, wet and unruly.  And so delicious, too…"
About our listings
Our best efforts were made to ensure that information provided was accurate at time of publication. Have a correction or update? Send it here.