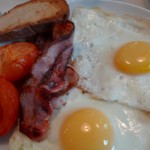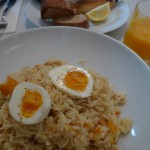 At this café/exhibition space on a quiet impasse near Place de Clichy, a pair of former Rose Bakery cooks are giving modern British cooking a very good name, and a serious barista is serving some of the best coffee in town.

A great neighborhood option
Practical information
Address: 6 impasse de la Défense, 75018
Nearest transport: Clichy (2, 13)
Hours: Closed Monday and Tuesday
Reservations: Reservations not necessary
Telephone: 01 44 70 75 51
Website

View larger map View a map of all of our restaurants here.
Average price for lunch: 10-19€
Average price for dinner: 20-34€
Style of cuisine: British
Special attributes: small plates, comfort food, exceptional desserts, decent brunch, outdoor dining, good for solo dining, open Sunday
Type of crowd: foodies, bobos, neighborhood locals, families
Interior: quirky & playful
Atmosphere: casual
Reviews of interest
Aurélie Chaigneau (2013) "Un soir d'été, sur la petite terrasse au bout de l'impasse de la Défense, à l'abri du brouhaha des voitures: truite de Banka, citron et fenouil, tendre et acidulé. Pour suivre, le merlu, palourdes, pommes de terre et bacon tout en équilibre. Et pour le dessert, cheesecake maison onctueux à l'anglaise. Revigorant."
Barbra Austin (2010) "…the Brits invented brunch, and now two former Rose Bakery cooks are working on perfecting it at Le Bal.  Scones, yes, plus kippers, kedgeree, pancakes, porridge and Welsh rarebit…"
François Simon (2010) "Le soir, les cuisines haussent le ton: tête de cochon aux pruneaux, carrelet au fenouil, pintade aux endives, collier d'agneau aux carottes…Le tout galvanisé par des flacons inspirés des bonnes caves…"
Caroline Mignot (2010) "Ces anciens de Rose Bakery ont retenu la leçon du pain et du beurre déposés sur la table à votre arrivée, avec des plats simples, sains et bons…des desserts aux accents anglais, mais prennent carrément le contre-pied de Rose Bakery question service. Des sourires francs, de vraies attentions et un plaisir de recevoir, ça fait plaisir à voir."
About our listings
Our best efforts were made to ensure that information provided was accurate at time of publication. Have a correction or update? Send it here.