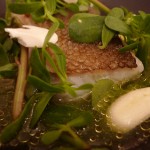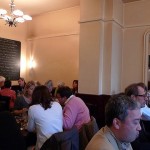 You can only reserve for the first seating at Le Chateaubriand. After that, you'll have to wait in line with everyone else for a stab at Iñaki Aizpitarte's unique 50€ menu, a parade of forgotten vegetables, fish, and meat (some raw, some cooked) that landed the restaurant on
San Pellegrino's 50 Best
list last year.
Practical information
Address: 129 Avenue Parmentier, 75011
Nearest transport: Goncourt (11)
Hours: Dinner only, Closed Sunday, Closed Monday
Reservations: Book many weeks in advance
Telephone: 01 43 57 45 95

View larger map View a map of all of our restaurants here.
Average price for dinner: 35-49€
Style of cuisine: Modern French
Special attributes: no-choice menu, prix-fixe, market-based cooking, renowned chef
Type of crowd: hipsters, foodies, bobos
Interior: charming & traditional
Atmosphere: bustling
Reviews of interest
About our listings
Our best efforts were made to ensure that information provided was accurate at time of publication. Have a correction or update? Send it here.