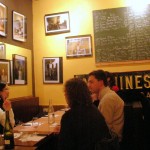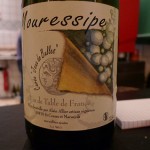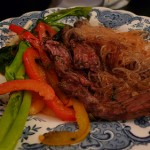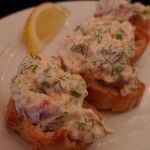 The open kitchen at Autour d'un Verre faces a tiny dining room where neighborhood locals tuck into straightforward fare and natural wines.

A great neighborhood option
Practical information
Address: 21 rue de Trévise, 75009
Nearest transport: Grands Boulevards (8, 9) or Cadet (7)
Hours: Closed Sunday, closed Monday dinner, closed Saturday lunch
Reservations: Last minute booking usually OK
Telephone: 01 48 24 43 74

View larger map View a map of all of our restaurants here.
Average price for lunch: 10-19€
Average price for dinner: 20-34€
Style of cuisine: Classic French
Special attributes: market-based cooking, comfort food, superior wine list
Type of crowd: hipsters, foodies, bobos, neighborhood locals
Interior: bare bones & minimal
Atmosphere: casual
Reviews of interest
Aaron Ayscough (2010) "Simple, well-sourced food, gritty natural wines, and a total lack of all pretension: these, however,  are rare assets, and they're why I'll keep returning to Autour d'Un Verre whenever I'm in the neighborhood."
Meg Zimbeck (2010) "..it's just so incredibly simple. Sometimes, though, that's exactly what you need…like eating in the home of a friend who knows how to entertain a crowd."
Caroline Mignot (2010) "…un bistrot de copains où passer de délicieuses soirées…une ardoise de vins naturels, des soirées dégustation…cette cuisine de bistrot, bonne franquette et franchement bonne."
About our listings
Our best efforts were made to ensure that information provided was accurate at time of publication. Have a correction or update? Send it here.