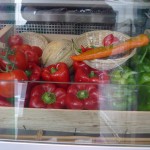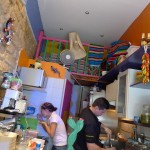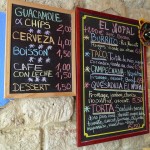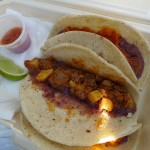 A crowd queues at this sliver of a taqueria off the canal for Claudia and Alejandro's tacos, burritos and quesadillas. There are only two stools in the tiny place, so plan on taking it to go.

A great neighborhood option
Practical information
Address: 3 rue Eugène Varlin, 75010
Nearest transport: Chateau Landon (7)
Hours: Closed Monday
Reservations: Reservations not accepted
Telephone: 07 86 39 63 46

View larger map View a map of all of our restaurants here.
Average price for lunch: Less than 10€
Average price for dinner: Less than 10€
Style of cuisine: Mexican
Special attributes: comfort food, vegetarian options, good for solo dining, open Sunday, open Monday, Take-out available
Type of crowd: foodies, neighborhood locals, students
Interior: bare bones & minimal
Atmosphere: casual
Reviews of interest
Meg Zimbeck (2011) "I love the cactus-filled campechana and Alejandro's handmade corn tortillas…that [tortilla] press will get a workout when summer arrives and locals discover the joy of  taco picnics along the Canal."
Barbra Austin (2010) "I've also had the quesadilla with chorizo and its cousin the campechana, filled with grilled beef, nopalitos, avocado, and cheese. I'd like a burst of freshness in all of them, something to brighten up the flavors. Alejandro's delicious salsa, made with fresh chilies – whatever varieties he finds – certainly helps. (Sensitive-palated Parisians, consider yourselves warned.)"
About our listings
Our best efforts were made to ensure that information provided was accurate at time of publication. Have a correction or update? Send it here.