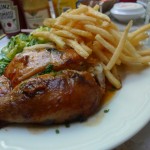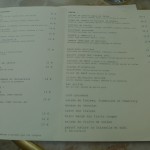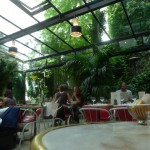 Fashion types flock to to this boutique hotel for lunch in the secluded back garden.
Practical information
Address: 8 rue de Navarin, 75009
Nearest transport: Pigalle (2, 12) or Saint-Georges (12)
Hours: open every day
Reservations: Last minute booking usually OK
Telephone: 01 48 78 31 80
Website

View larger map View a map of all of our restaurants here.
Average price for lunch: 10-19€
Average price for dinner: 20-34€
Style of cuisine: classic French
Special attributes: vegetarian options, outdoor dining, continuous all-day service, open Sunday, open Monday
Type of crowd: hipsters, bobos, style hounds
Interior: charming & traditional
Atmosphere: casual
Reviews of interest
François-Regis Gaudry (2011) "Cet endroit a un sex-appeal terrible…[mais] je viens de découvrir avec stupeur que cette fameuse assiette verte est au régime…Problème : le prix."
Figaroscope (2010) "À côté des inévitables burgers, croques et conserves, elle n'oublie ni les viandes d'Argentine-frites maison, ni le poulet rôti des Landes, ni le bar grillé et sa tombée d'épinards. Bien vu."
About our listings
Our best efforts were made to ensure that information provided was accurate at time of publication. Have a correction or update? Send it here.