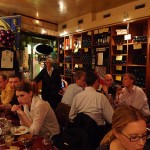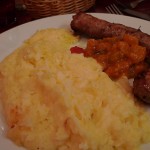 This wine bar, run by the inimitable Tim Johnston (a Scot!) is frequented by loyal regulars and hefty handful of Anglo visitors, happily drinking a bottle taken from the shelves or eating something from the simple, meaty menu. This might be the only place in Paris to get haggis. Bottles to go, too.

A great neighborhood option
Practical information
Address: 47 rue de Richelieu, 75001
Nearest transport: Pyramides (7, 14)
Hours: Closed Sunday, closed Monday lunch
Reservations: Last minute booking usually OK
Telephone: 01 42 97 46 49

View larger map View a map of all of our restaurants here.
Average price for lunch: 10-19€
Average price for dinner: 20-34€
Style of cuisine: Classic French
Special attributes: superior wine list, good for solo dining, open Monday
Type of crowd: foodies, neighborhood locals
Interior: bare bones & minimal
Atmosphere: casual
Reviews of interest
About our listings
Our best efforts were made to ensure that information provided was accurate at time of publication. Have a correction or update? Send it here.