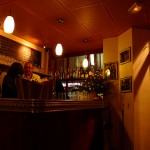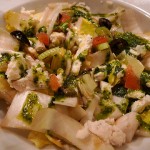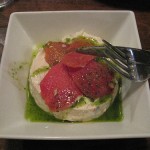 Arrive early (doors open at 7pm) to avoid a wait at this casual, no-reservations bistro run by chef Christian Etchebest.

An absolute favorite
Practical information
Address: 101 rue de l'Ouest, 75014
Nearest transport: Pernety (13)
Hours: Dinner, Monday – Friday
Reservations: Reservations not accepted
Telephone: No phone

View larger map View a map of all of our restaurants here.
Average price for dinner: 20-34€
Style of cuisine: Classic French
Special attributes: open Monday
Type of crowd: Neighborhood locals
Interior: charming & traditional
Atmosphere: bustling
Reviews of interest
Meg Zimbeck (2009) "…a generous table where you can eat and drink big for €30-35 and with restraint for around €20. Safe choices like roasted chicken and steak frites coexist with more adventurous nose-to-tail preparations."
Thierry Richard (2008) "dans l'assiette, la candeur des intitulés rejoint le bonheur de saveurs claires et de produits de belle origine. L'œuf-mayo un peu corsé devrait rentrer direct dans le palmarès de Claude Lebey et de l'ASOM (Association de Sauvegarde de l'Oeuf-Mayonnaise), la terrine de boudin et sa petite salade relevée d'une vinaigrette au basilic vous arrache des soupirs, la poitrine de porc craque sournoisement sous la dent…"
About our listings
Our best efforts were made to ensure that information provided was accurate at time of publication. Have a correction or update? Send it here.