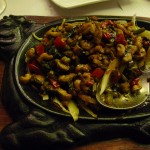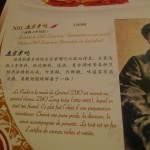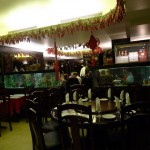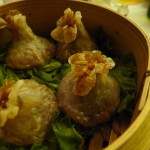 Craving a little heat? Head to this address for chili-laden Hunanese fare. If you want their chicken Zuo Zang-tong — General Tso's chicken — be sure to call a day in advance and let them know.

A great neighborhood option
Practical information
Address: 22 rue de Trévise, 75009
Nearest transport: Grands Boulevards (8, 9) or Cadet (7)
Hours: Closed Monday
Reservations: Last minute booking usually OK
Telephone: 01 48 00 07 73

View larger map View a map of all of our restaurants here.
Average price for lunch: 20-34€
Average price for dinner: 20-34€
Style of cuisine: Chinese
Special attributes: good for groups, open Sunday
Type of crowd: neighborhood locals, families
Interior: bare bones & minimal
Atmosphere: casual
Reviews of interest
Caroline Mignot (2013) "Voici donc le riz sauté aux choux (il y en avait plusieurs au choix). Collant et sec ce qu'il faut et assaisonné de petits morceaux de choux saumurés. Pas mal du tout."
Barbra Austin (2011) "Spicy lamb with cumin and sliced onions…the pure heat was balanced…The Pork Xiang, morsels of braised belly, deeply glazed, plump with sweet fat and surrounded by tender whole cloves of garlic, was quickly devoured. There were duck pancakes, too, small slices of the meat and skin, crusted with sesame seeds…"
Alexander Lobrano (2010) "I wondered if this kitchen would offer me the fire I was craving, and boy did it deliciously deliver. We started with a refreshing dish of ciboule, or Chinese chives, lightly dressed in sesame oil and flecked with red pepper, and then tucked into some delicious pumpkin beignets…"
About our listings
Our best efforts were made to ensure that information provided was accurate at time of publication. Have a correction or update? Send it here.