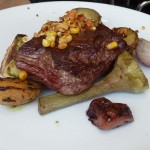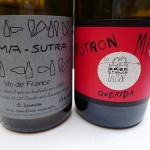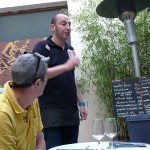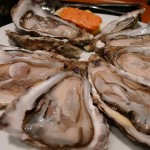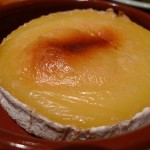 A small wine bar near the Parc des Buttes-Chaumont specializing in natural wines and simple, affordable food.

A great neighborhood option
Practical information
Address: 35 rue des Annelets, 75019
Nearest transport: Botzaris (7bis)
Hours: Open Monday-Saturday for dinner and Tuesdays-Fridays for lunch; Closed Sunday
Reservations: Last minute booking usually OK
Telephone: 01 40 40 79 41

View larger map  View a map of all of our restaurants here.
Average price for dinner: 10-19€
Style of cuisine: small plates
Special attributes: outdoor dining, superior wine list, comfort food, excellent cheese course
Type of crowd: neighborhood locals
Interior: quirky & playful
Atmosphere: casual
Reviews of interest
John Talbott (2013) "A fine natural wine place opened about 3 years ago…reconfigured the place…and brought in Mathieu Moity–whose CV looks like he moved through some of the great kitchens in Europe – Noma, Chateaubriand, Bras, etc.  The carte is limited but, as you will see, good and 3 courses for 20 E and reminds me of what Eric Frechon did for 190 FF around the corner a few years ago."
Aaron Ayscough (2011) "Ô Divin is home to a great selection of offbeat, inexpensive, 100% natural wines, and precisely none of the self-seriousness or pretension that can at the worst of times accompany their service… Ô Divin's modest but engaging menu consists of one aced dish after another, all at 19ème arrondissement prices."
Meg Zimbeck (2011) "I treasure this little spot near the Parc des Buttes-Chaumont, and come often for the selection of natural wines and simple food. It's neither expensive nor ambitious nor crowded, and the welcome from Nafouel is always sweet."
About our listings
Our best efforts were made to ensure that information provided was accurate at time of publication. Have a correction or update? Send it here.