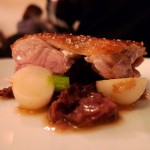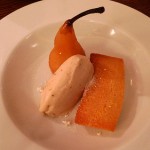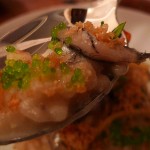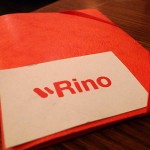 Giovanni Passerini's modern market cooking at Rino reflects his Mediterranean heritage and, to no small degree, his experience working for Petter Nilsson at nearby
La Gazzetta
.

An absolute favorite
Practical information
Address: 46 rue Trousseau 75011
Nearest transport: Ledru-Rollin (8), Gare de Lyon (1, 14)
Hours: Closed Sunday, closed Monday
Reservations: Book a few days in advance
Telephone: 01 48 06 95 85
Website

View larger map View a map of all of our restaurants here.
Average price for lunch: 20-34€
Average price for dinner: 35-49€
Style of cuisine: Modern French
Special attributes: no-choice menu
Type of crowd: foodies, neighborhood locals
Interior: bare bones & minimal
Atmosphere: casual
Reviews of interest
François Simon (2010) "…une table agréable et valeureuse."
Barbra Austin (2010) "a parade of very pretty plates… a fantastic escabeche of rouget with white asparagus…sardine ravioli in fennel consommé…a thick, trembling cut of cod with pil pil sauce.."
Meg Zimbeck (2010) "I was delighted…There's something really fun about looking at a menu and having no idea about the taste of the proposed dishes."
Alexander Lobrano (2010) "Simple, sincere, delicious, intense, this was one of the best meals I've eaten in a longtime…"
Phyllis Flick (2010) "…daring market-based cuisine is light without the use of heavy sauces, using the best of seasonal ingredients including stunning vegetables…"
John Talbott (2010) "Great fish, wonderful chef and waitstaff, otherwise OK."
Emmanuel Rubin – Le Figaro (2010) "Une cuisine d'entre slam et ring, tout à la fois énergique, dans l'élan, dans l'influx, épatante à jongler entre le naturel et le juteux…"
About our listings
Our best efforts were made to ensure that information provided was accurate at time of publication. Have a correction or update? Send it here.