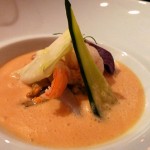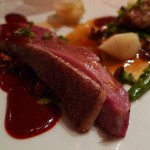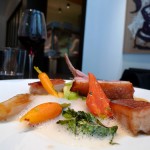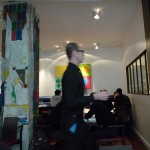 East meets west at William Ledeuil's much-lauded Ze Kitchen Galerie.

A great neighborhood option
Practical information
Address: 4 rue des Grands Augustins, 75006
Nearest transport: Odéon (4, 10) or St. Michel (4, RER B, C)
Hours: Closed Sunday, Closed Saturday lunch
Reservations: Book a week or two in advance
Telephone: 01 44 32 00 32
Website

View larger map View a map of all of our restaurants here.
Average price for lunch: 35-49€
Average price for dinner: 35-49€
Style of cuisine: modern French, fusion
Special attributes: prix-fixe, renowned chef, open Monday
Type of crowd: suits, foodies, style hounds
Interior: polished & modern
Atmosphere: casual
Reviews of interest
John Talbott (2011) "Ze Kitchen Galerie keeps on producing, and one enters never knowing what to expect and leaves astonished by the creative mind that keeps on creating dishes…a sea urchin soup with squid, pressed salmon eggs…wrapped minced milk-fed lamb with Thai herbs and ginger…crab and shrimp raviolis with Thai pistou…"
John Talbott (2010) "…has been open almost a decade and William Ledeuil never ceases to astonish…"
Meg Zimbeck via Girls' Guide to Paris (2010) "Ledeuil's marriage of Far Eastern flavors and traditional French ingredients is unusual in this city. Beyond simply being 'interesting,' Ledeuil's conceptions also taste consistently good…"
François Simon (2007) "…ce qui nous enchante, c'est le métissage des idées à l'instar de la cuisine pratiquée par William Ledeuil, dans sa Kitchen Galerie."
About our listings
Our best efforts were made to ensure that information provided was accurate at time of publication. Have a correction or update? Send it here.