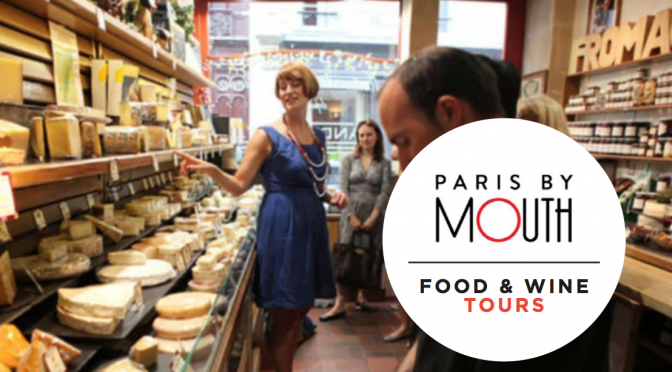 There's a reason why our food tours have been celebrated by The New York Times (twice!), and knowledgable foodies like David Lebovitz and Ruth Reichl: we keep our group sizes tiny, we spend generously at the best shops in town, and we only work with expert guides who have devoted their lives to food & wine.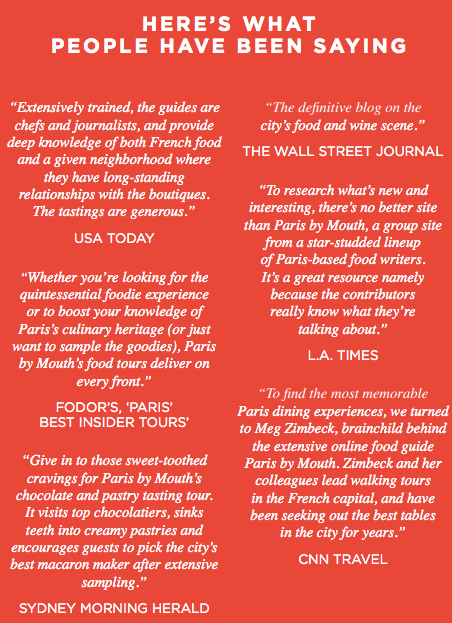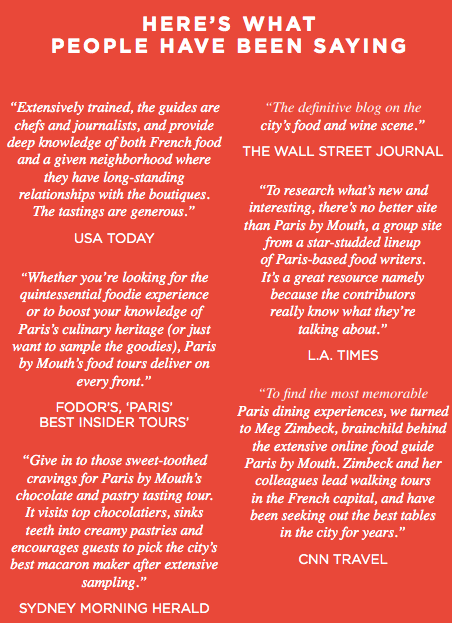 Read what the publications at right have said about us, or check out what our loyal clients have said on TripAdvisor, then read the descriptions below to learn about the differences between our tours. A few things that all our tours have in common:
Groups are small, with a maximum of 7 guests. Because this intimate experience is so highly valued by our guests and the prestige shops who welcome us, we're not able to add spots to sold-out tours.
Our tours are designed for adults. We're unable to host children under ten years of age.
Our tours are in English and last for around 3 hours. They include some walking, but also feature a seated tasting with wine pairings.
Tour Availability
Our calendar of tour dates through early August is available below. We'll be posting dates for August onward during the first week of June. Our tours sell out quickly, and number of tickets shown for any tour is the maximum number we still have available. Feel free to send an email to tasteparisbymouth@gmail.com if you have questions about availability or any difficulty in booking.

Our Food & Wine Tours
Taste of the Marais

Do you dream of chewy baguettes and buttery croissants? On this tour, we'll be tasting versions that have been named the best in Paris. Along with a visit to one of the most intriguing chocolate shops in Paris, we'll be sampling cheeses from a father and daughter fromagerie, charcuterie from all over France, and washing these down with a selection of AOC French wines… [read more]
Taste of Saint-Germain

In a neighborhood that's world-famous for its food, we'll be sampling the very best breads, cheeses, charcuterie, wine, chocolate and other sweets. Our most popular tour… [read more]
Taste of the Latin Quarter

In addition to sampling savory charcuterie and cheeses from one of the most historic cheese affineurs in town along with bread and wine, we'll be sharing an array of treats along the sucré spectrum. That includes chocolates from the hand of a Meilleur Ouvrier de France (an MOF – the highest rank for a French chocolatier) along with the city's best lemon tart. [read more]
Taste of the Left Bank

This fantastic tour moves between both the Latin Quarter Saint-Germain, exploring a boulangerie  that revitalized French baking, one of the most exhilarating & expensive fromageries in the city, and many incredible sweets. We'll sample all this, plus some delicious charcuterie, at a hidden treasure of a wine shop…[read more]
French Cheese Tasting Workshop

If you've ever wondered why there are more than 500 different cheeses in France, how different cheeses are produced (what accounts for their texture, color, and smell?), why French cheesemakers use raw unpasteurized milk in their cheese, what the impact of seasonality and aging are on cheese, and how locals typically enjoy cheese in restaurants and at home… this is a tasting for you [read more]