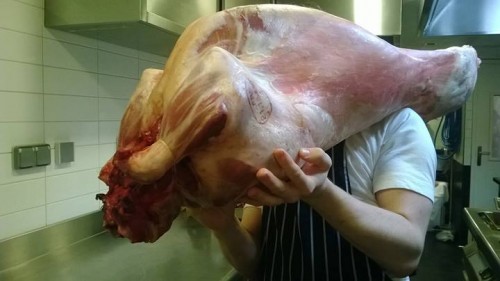 Partage, an event series focused on a single stellar ingredient meant to be shared, is popping up for Sunday lunch at Albion on March 9th. During the first edition, each table can fight over a giant joint of lamb from Guillaume Verdin from the Ferme de Clavisy, an incredible producer from Burgundy who supplies Septime, Semilla, and a small handful of other top tables. Chef Oliver Clarke of Fish (La Boissonerie) in Paris and Chef Cecelie Hedetoft of both Relae and Manfreds in Copenhagen are sharing duties for this first event. The lamb and their shared vegetable dishes promise to be very special, and there's no doubt that excellent wine will be on offer, thanks to the involvement of Jonathan Brookes from La Dernière Goutte.
Tickets are 45€ per person and available for bookings at 12:30, 1:00, 2:30 and 3:00 pm. Wine can be purchased (cash only) directly at the event. They will likely sell out within a day or two, so act fast if you want to go. But don't fret if they're full – the Partage team is planning many more events – each focused on a single exceptional ingredient – throughout the year.
More information on lamb pedigree, the events series and/or booking instructions can be found on their website or Facebook page.