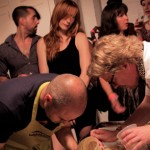 The Omnivore Food Festival is returning to Paris in 2012 after years of taking place in Deauville. The atmosphere at that seaside resort town was deliciously debauched. Contributing editor Sophie Brissaud went as far as to joke that the festival was "a terrific collective sex party where everyone gets naked and screws like bunnies while eating pleine mer oysters and drinking Plageoles wines."
This year, in an attempt to recreate the flirting grounds of the Normandie Barrière hotel, Omnivore will be hosting an invitation-only party at the Bataclan. With great music, plenty of alcohol, and tastings created by some of France's most famous chefs, it's the place where all Paris food hounds will want to be on March 11.
Free tickets for PbM readers
Omnivore has generously offered free party tickets to five pairs of PbM bunnies. To award these tickets, we'll be asking a different question every afternoon this week about the upcoming Omnivore World Tour. Be the first person to correctly answer the day's question in the comments and you'll win a pair of free party tix. All information can be found on the Omnivore website.
Monday's question: who is the only female chef scheduled to lead a savory masterclass at the Paris festival?
Tuesday's question: which New York chef came up with the nickname for Omnivore's series of "F***ing Dinners"?
Wednesday's question: which city was the first stop on the 2012 Omnivore World tour?
Thursday's question: to which city will the Omnivore World Tour go directly after Paris?
Friday's question: to which Chinese city will the Omnivore World Tour be going in June?
The winners:
Monday - Alexandre Balthazar Grimod de la Reynière (he lives!)
Tuesday – Lynn Segal
Wednesday - Fournié
Thursday – Jin
Friday – Benedetta Prandini
Congratulations to all our winners!