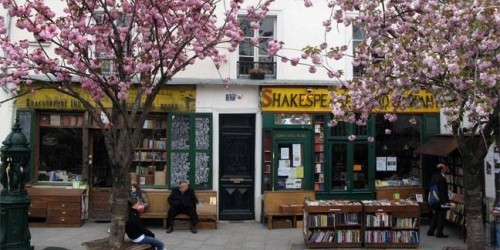 Construction is underway at Shakespeare & Company to open an adjoining café in partnership with Bob's Bake Shop in October.
George Whitman opened the iconic Anglo bookstore at 37 rue Bûcherie in 1951. "The space next door has been empty for over 30 years, and my father always wanted to rent it for a bookshop café," explains Sylvia Whitman, his daughter and successor. "When the owners of the neighboring building finally decided to rent it, it came down to another branch of the ice cream chain Amorino or us. We're really lucky they chose heart over money and went with Shakespeare & Company."
The café, which is expected to be open every day from 9am-9pm, will serve locally roasted Café Lomi beans, fresh organic juices, hand-rolled bagels and bialys, American baked goods, and vegan and gluten-free dishes.  This particular Bob's project will also have a British accent in the form of an afternoon tea menu with Postcard teas, finger sandwiches, scones with cream, and fresh sourdough crumpets.
According to Marc Grossman, owner of Bob's, there will also be a few literary touches including Shakespeare-stamped sugar cookies (traditional or gluten-free) with every cup of coffee, a special Shakespeare shake, and picnic baskets filled with wine, cheese, picnic blanket and short story.
"We're hoping to have fun with the relationship between the café and bookshop. For now, the obvious things are events around food and book placements in the café," adds Whitman.  Other tie-ins include "Hot Puns" which Grossman clarifies will be "daily specials at the intersection of books and food, including recipes from featured cookbooks as well as literary recipes." The café will also provide new ways to interact with writers.  In addition to traditional evening readings/book signings at the book shop, the café will have "Coffee with a Writer" morning sessions "to pump groggy authors with caffeine and sugar and get them talking," according to Whitman.
Grossman intends to branch out with the coffee program, too, and feature guest blends of filter coffee from various roasters such as Coffee Collective in Copenhagen and Five Elephants of Berlin. He'll stay close to home, however, when it comes to ice cream. Berthillon ice creams & sorbet will be available by the scoop here, as they already are in much of the area around Notre Dame. "There's nothing original about Berthillon," he says,  "but it is so damn good."
Photo via Shakespeare & Co.'s Facebook page