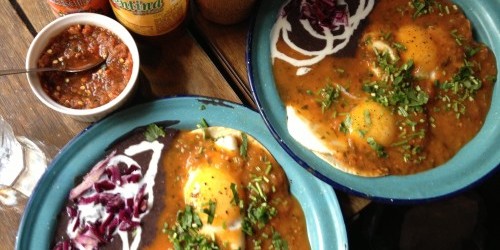 It used to be slim pickings when it came to Mexican food in Paris, but we seemed have reached a taco tipping point with the mid-March opening of Café Chilango. Luis Rendon has left Candelaria, the taco speakeasy that started it all, to open a canal side café that serves all of one's hipsteriest needs: quesadillas, good coffee, and eventually, cocktails.
The trendsetting taqueria hasn't suffered with his departure. Candelaria just celebrated its 3rd birthday and the food & booze are as good as ever. For those who don't want to hover at the tiny front room counter, table service is available in the back bar during weekday lunches and for weekend brunch. That brunch features a special breakfast cocktail menu plus huevos rancheros (pictured above).
Candelaria's tortilla supplier, Mil Amores Tortilleria, is still turning out the best (only?) tortillas and chips in town from the back room of an 11ème apartment building. You can score some by stopping by on Fridays from 11-2pm or 6-8pm, or by ordering online. Pickups on other days and special orders can be arranged with 24 hours notice by calling or texting Erika at 06 20 32 60 92. In addition to tortillas, they sell a few jarred & canned Mexican products, and their homemade salsas should be available again soon.
Tortilla chips from Mil Amores were spotted recently in a platter of duck confit nachos at Lockwood. The heaping mound of chips layered with duck and guacamole is a mess to eat, but delicious and worth the humiliation. Mil Amores chips are also being served at La Mexcaleria, a new place that we haven't yet tried. Has anyone been?
El Nopal – one of the first authentic Mexican counters in Paris – is still going strong, and is staging a non-hostile burrito takeover at the bar Red House this coming Thursday.
At the other end of the spectrum, Chipotle – the American burrito behemoth – has opened their second location in France. Housed inside the giant new Beaugrenelle mall in the 15th arrondissement, the location features large windows with a view of the Seine and 5€ margaritas.
Finally, Emperor Norton's spicy West Coast brunch is no longer happening at Rice & Fish. Keep an eye on their Facebook page to know if and when Emperor Norton will return to satisfy our breakfast burrito needs.