Tag Archives: Youpi et voilà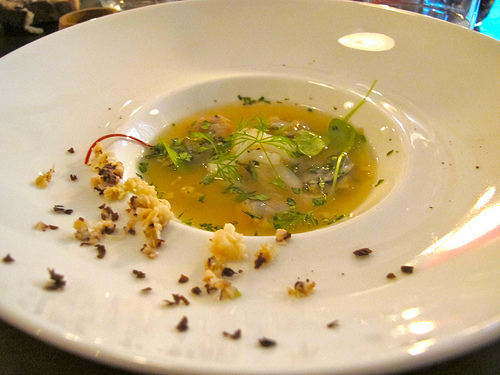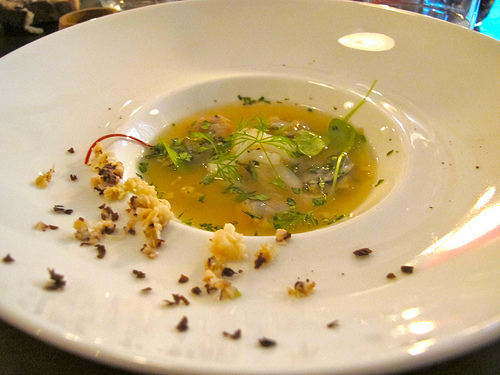 2012 has already been a busy year on the Paris restaurant scene. Here's a selection of noteworthy newcomers. Click on the restaurant name for practical details and more reviews.
Youpi et Voilà Fans of Septime and Saturne will probably like Patrice Gelbart's seasonal cooking, characterized by "generous amounts of fresh herbs and plants with a mix of textures and flavors," says Phyllis Flick.  "There are no heavy sauces, and little fat. Just clean bright flavors."
Au Conservatoire Cédric Casanova has opened a Sicilian épicerie next to his La Tête Dans Les Olives, with a single table d'hôte for 5-8 people that is probably already booked solid for the next ten years. The "picnic" runs 30€/person and features products from the shop, which you will no doubt want to purchase after the meal.
Big Fernand The burgers here are well-seared and juicy, the fries crisp, the staff look like they're starring in a hipster production of Newsies. Food truck? What food truck?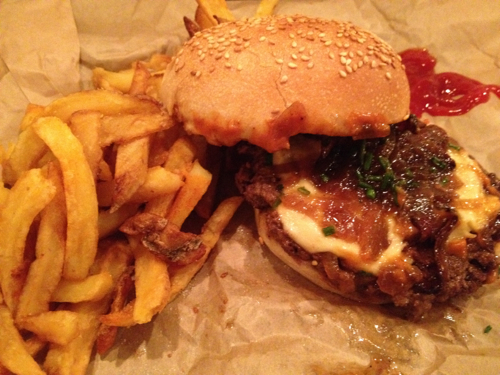 Terroir Parisien Yannick Alleno of Le Meurice brings his locavore act to the Left Bank at this airy, open-every-day spot, resuscitating the Parisian repertoire with Ile de France ingredients. Dine in on frisée salad, onion soup, and Verot charcuterie, or get a classic sandwich jambon et beurre to go.
Arola Early reviews are mixed for this Spanish import, a small-plates set up from Michelin-star collector Sergi Arola, housed in the new W Hotel. Alexander Lobrano says, "the Pica Pica format [Arola's term for small plates] is fun when you're on a large sunny terrace with the Mediterranean in the distance but is distinctly less satisfying in a low-ceilinged dining room with handsome formal 19th century French moldings." Claro que si.
Semilla There's a M.O.F in the (flameless) open kitchen at this new address from everyone's favorite Anglo restaurateurs Juan Sanchez and Drew Harré, of Fish, Cosi, and wine shop La Dernière Goutte. Patricia Wells says it's "carefully designed for the way we want to eat today…a nice mix of little and large tastes for vegetarians, meat eaters, lovers of the classics as well as the adventurous…"
La Table d'Aki Akihiro Horikoshi — a L'Ambroisie vet — is both chef and waiter at his new, intimate 16-seater in the 7th, where he's cooking a modern, refined menu that Bruno Verjus declares "the best value for the money in the world." THE WORLD.