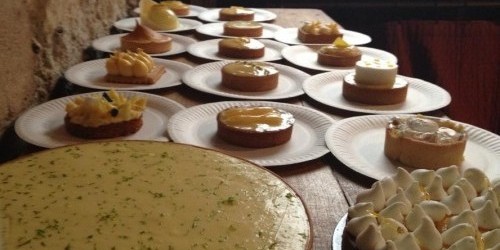 Citrus is in season right now and lemon tarts, a perennial Parisian favorite, are in abundance at pâtisseries all over town.  Because your time – and calories – shouldn't be wasted on mediocre pastry, we organized a panel to blind taste and identify the best tarte au citron.
Five Great Lemon Tarts
Our #1 favorite comes from MOF pastry chef Arnaud Larher. 
Lemon tarts from Sébastien Gaudard, Sadaharu Aoki, and Jacques Genin all ranked highly, with more #1 votes than the tart from Arnaud Lahrer. However, those tarts were more divisive, and dissenting votes brought down their overall scores. The meringue topped tart from Larher had very high marks – if not always the highest – and that accounts for the upset victory.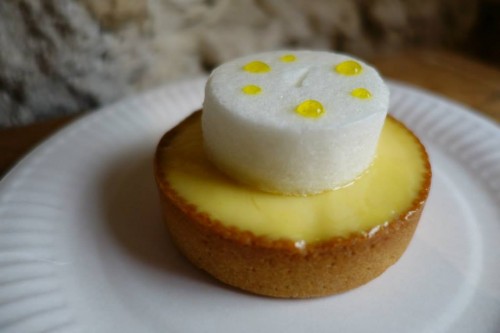 Almost all the judges were surprised by the big win from Larher, but it was consistently rated across the board for good lemon flavor, buttery crust, and an appealing top hat of meringue.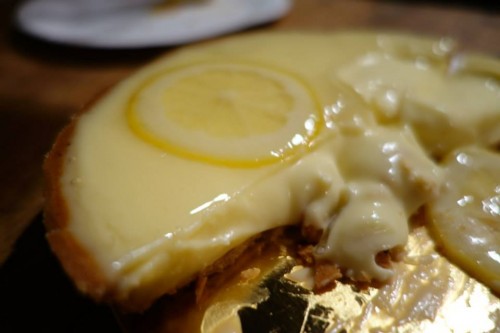 Gaudard's brightly flavored lemon curd was excellent, even if a bit messy and loose. One judge lauded it for its "soft, strong lemon taste" and another found it had "the best crust to date."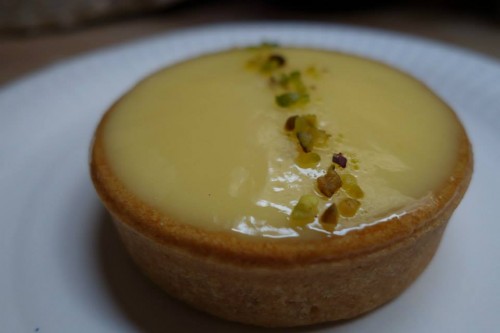 The elegant presentation, balanced lemon flavor and crunchy crust made this a favorite of one judge who said "I thought Aoki nailed it pretty well." Another said there was "a grittiness to the crust, but I liked it" while others found it a little two sweet.
4.  La Pâtisserie by Cyril Lignac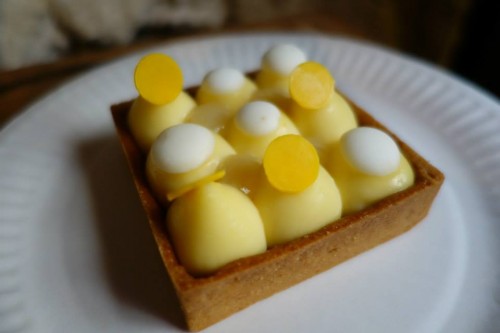 This outside the box lemon tart, inside of a box, was mostly well-received. One judge noted its "well-balanced flavor but not very useful meringue as there's too much bitterness." Another raved about the drops of lemon emulsion between the small peaks of curd.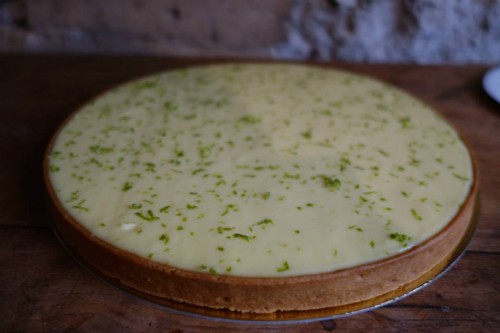 This made-to-order lemon tart was a favorite of the PbM editorial team (both our Editor-in-Chief and Assistant Editor ranked it as their top pick) but one judge wrote "I was disappointed. It wasn't as subtle as in my memories, compared to the others." Opinions were divided about the incorporation of lime zest and basil – one judge declared that it "smells amazing, like pure spring!" and another felt these overshadowed the lemon.
We also tasted and ranked the following:
6. Blé Sucré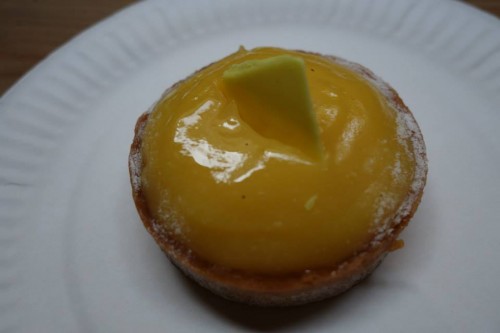 The tiniest of the tarts had an eggier consistency and rustic crust. It was solidly liked by the judges who declared "tart but not too sweet" and "wow so much lemon!" but found the crust a little too thick.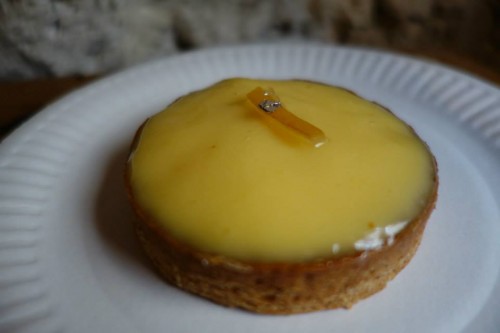 The well-cooked crust was generally a hit, and judges noted the balanced acidity of this silver topped tart. One declared the curd "a little artificial tasting."
8. Carette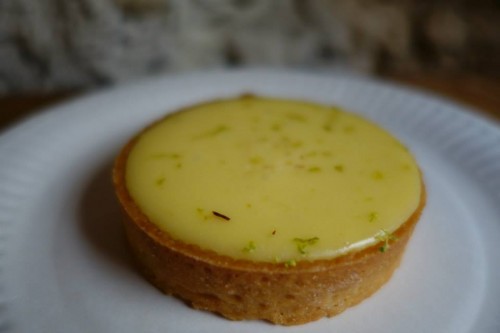 The texture of the curd was generally applauded but judges were divided on the intensity of the lemon flavor. One found it "quite strong and very fruity" while another declared it "one note." Several judges noted that the crust was a little too thin.
9. Pierre Hermé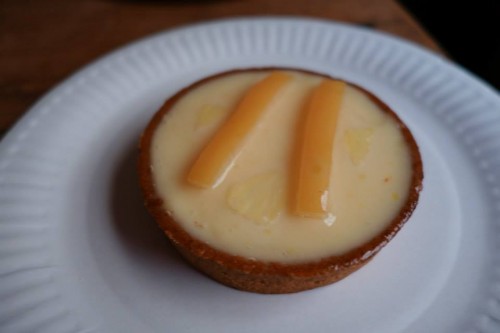 Judges were surprised that the "Picasso of Pastry" didn't perform better. The presentation was stunning, but the darker crust overpowered the too subtle "milky tasting" lemon tart with "acrid" candied lemon on top.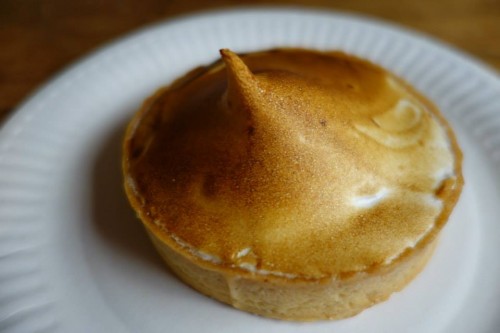 The whimsical lime scented meringue cap was striking, but ultimately overwhelmed the lemon curd which one judge declared "too mellow".
11. Ladurée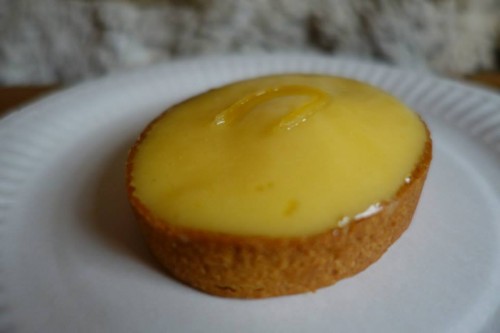 This was another surprise– Ladurée actually exceeded most of the judge's expectations and performed much better than anticipated despite an eggy and sweet curd. The "well cooked crust" was a hit, but one wondered if it was "too buttery?!" Another found the texture too loose and the glaze too old-fashioned.
12. Hugo & Victor
The crunchy meringue peaks were captivating, but contributed to the judges' unanimous declaration that the tart was "too sweet". The thin lemon curd to thick crust ratio was another drawback, with one judge stating it was "too candy like."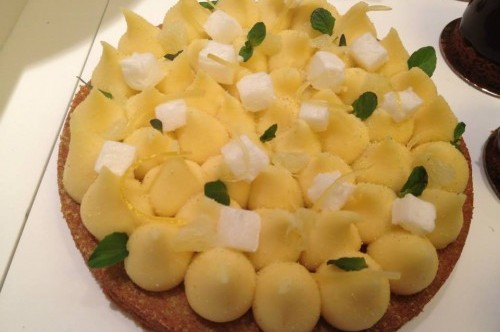 The sablé crust was given demerits for being "overly thick and sandy", "too buttery" and "dry and tasteless." The lemon cream lacked intensity and was "not bright or acidic enough".
14. Stéphane Secco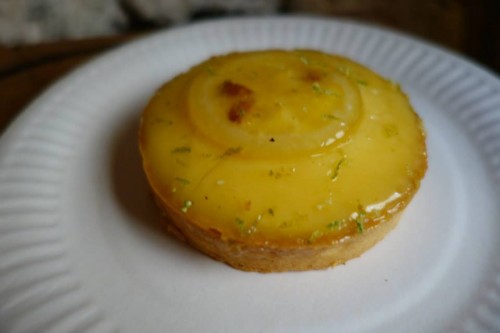 Judges liked the buttery crust and all-natural look of the tart with the inclusion of the candied rind and seeds, but were put off by the harsh, abrasive lemon flavor that one described as "really acrid and inedible." Another loved it and was "quite sad for Secco's tart, which was so powerful in lemon and acidity."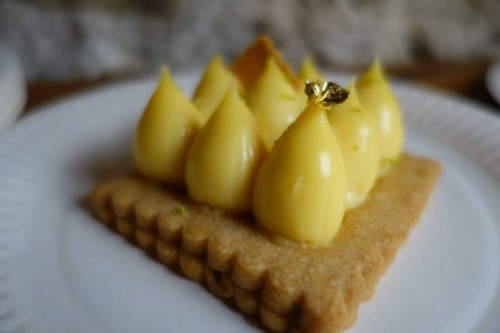 One of the most visually distinctive tarts, the dominant flavor was not lemon but overwhelming vanilla flavor from the shortbread-like crust. Descriptors included: "rubbery", "artificial", and "synthetic tasting".  One judge will "definitely stay clear!"
16. Helmut Newcake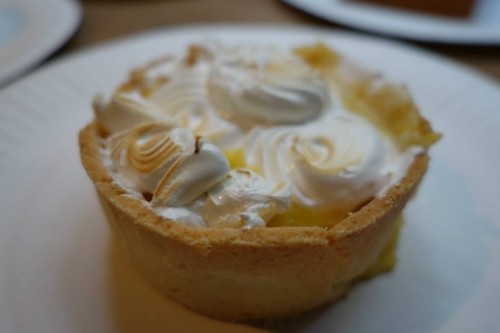 This gluten-free tart put up a good fight against its carbo-loaded brethren, but just didn't have the same crisp texture and buttery flavor sans flour. "Too crumbly" came up in several comments. The overly sweet lemon flavor and curd to crust ratio could have been improved as well. Note: it wasn't penalized for the unfortunate squishing it received in transport. Several judges noted the "nice meringue."
The Process
We asked for your recommendations on Facebook and Twitter (thanks!) and sought the opinions of trusted French pastry experts and Contributing Editors Dorie Greenspan, Patricia Wells, and Camille Malmquist about what makes a quality tarte au citron.
It's not an easy pastry by any means. As Dorie Greenspan explains "Lemon tarts are tricky business. Almost by definition the filling must be puckery tart and scream lemon, but the line between tart and bitter is a fine one, and so the fruit's bite has to be tempered by just the right amount of sugar.  And there needs to be butter, too – butter to thicken and smooth the texture and to make the lemon flavor last and last… As important as the filling is the crust – it's not just something to hold the filling in place.  The crust should be golden brown… and thick enough to play crunch-and-crumb to the velvety smoothness of the filling."
Patricia Wells feels "a good chocolate tart and lemon tart are two of the most essential pastries in the world… To my mind, the ideal lemon tart has a truly crunchy crust that will  contrast perfectly with a bright-flavored, tart lemon curd."
Camille Malmquist explained that for the best lemon tart "You want [a crust that is] thin and crisp, but it needs to support and balance the lemon flavor, while also contrasting the texture of the curd. The curd should be very smooth with no graininess at all. Obviously, you want really good lemon flavor. That's the most important thing…"
The Judging Parameters
To that end, our score sheet was divided into five components with the most weight being given to pure lemon flavor, above all other criteria.
Lemon Flavor
Texture of Lemon Curd
Flavor & Texture of Crust
Flavor Enhancements
Aesthetic Embellishments
Judges tasted each tart blindly and were asked to tally up their scores, then rank each tart accordingly.
The Judges
Many thanks to our panel of judges that included:
Additional Reading