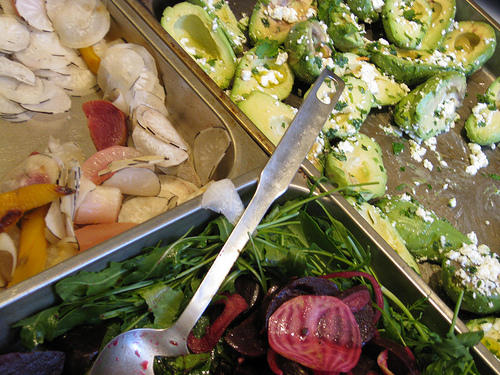 If anyone can put to rest the idea that a vegetarian banker is an oxymoron anywhere outside of India, it might be my college friend Duncan from Boston. He's been a vegetarian ever since I've know him, and in deference to his meat-free diet, I suffered through dozens of bean-and-grain "Whole Earth Catalog" type meals in cafés festooned with spider plants in macramé holders in the college town in Western Massachusetts where we went to school.
We hadn't seen each other for a long time, so when he wrote to say he'd be in Zurich on business and suggested I come down from Paris for the weekend, I happily agreed. As someone whose constant priority is good food, I wondered, however, how we'd bridge the gap between our respective diets during forty-eight hours in the business capital of Switzerland. I was too busy to do the type of restaurant research I usually do before a trip, but on the way to the airport, I mused that at least we could always do a fondue or two, which would be fine, since I love a good fondue. But then what? So it was a pleasant surprise when we met for a drink before dinner on my first night in town, and he said he'd made a reservation at a place that offered a vegetarian menu alongside the regular one.
Beautiful vegetarian dining at Mesa (photo Alexander Lobrano)
The restaurant, Mesa, was in a residential part of town, and it was a good-looking place with a big mullioned picture window, white walls, parquet floors and well-spaced tables when we came through the door. We studied the menu, and I was all set to tuck into some wild rabbit ravioli and a saddle of venison with a pumpkin-potato tart, cranberries and black salsify as part of the carnivores' prix-fixe when I glanced at the vegetarian offer. The lasagnetta with spinach, ricotta, scamorza and truffles sounded delicious, and so did the cauliflower cappuccino with couscous, quinoa and pecan crumble. Hmmm. It occurred to me that since we both like Swiss white wines, it might be easier if I had the vegetarian menu, too, and the deal was sealed when I spotted the main course: porcini with Maia gold potatoes, onions, trevisano and egg. Duncan was sort of bemused when I joined him, and what followed was a spectacularly good meal during which it never once occurred to me that I was eating the 'vegetarian option.'
Even more surprising was the fact that every restaurant we went to that weekend, including Clouds, the hip new table in a skyscraper in the arty Zurich West neighborhood, and Sein, a Michelin one starred table in the heart of town, had a dedicated vegetarian menu, and that they were similarly excellent.
In fact, as I was staring out the window at the snow-capped Alps from the plane on the way back to Paris, my only regret is that we never found time for a fondue. I also couldn't help but regretting that Paris is still vegging out when it comes to offering the sort of twenty-four carrot experience I'd just had in Zurich.
With a handful of exceptions, vegetarians are still accommodated in Paris rather than specifically catered to, and the general state of vegetarian dining in the city remains pretty dismal. It's easy to find great vegetarian food in cities like London and Berlin. Milan has the excellent Michelin anointed Joia and &Samhoud places, the most-talked about new restaurant in Amsterdam, also offers an excellent vegetarian tasting menu alongside its other ones. Wondering why a city as gastronomically gifted as Paris remains such a laggard, I queried some fellow PbM contributing editors for their take on eating green in Paris today.
"The French idea of a main course as a piece of meat or fish with a vegetable side is so profoundly ingrained that it's very hard to shift that paradigm. There's also the idea of going out to a restaurant as a special or celebratory occasion, and to most French people, this means treating yourself to meat or fish," explains Clotilde Dusoulier, whose book of French vegetarian recipes, The French Market Cookbook, was published earlier this year.
"I've lived in London, Philadelphia, New York, Boston, Washington and Paris all in the past six years and I have to say Paris is by far the worst," says Catherine Down. "I was a vegetarian for seventeen years, worked in DC as the editor of a food magazine for year and half without issue, but after only four months back in Paris, I've slowly started to re-introduce meat back into my diet because I felt like as a food writer, I couldn't properly do my job here." Lindsey Tramuta adds, "Overall, I've been quite disappointed with the vegetarian offering in Paris because I always leave these places feeling that the dishes were bland, over-salted or uninspired. Where Rose Bakery's mixed veggies and quiches were once enough for me to get my 'fix', my travels to other cities where vegetables take pride of place on the plate have raised my expectations considerably."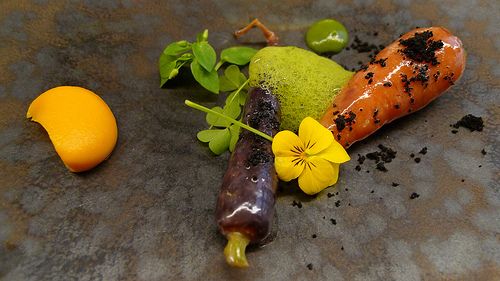 One veg course on a meat-heavy tasting menu at the now-closed Agapé Substance (photo Meg Zimbeck)
"The sad truth is that even in cities with lots of interest in vegetarian and vegan lifestyles, it seems the dining scene for these diets is limited at best, and often comprised of a handful of sad, dumpy cafés," observes Camille Malmquist. "That said, I think a majority of restaurants in the States (even in Dallas, my most recent American home) tend to at least offer vegetarian options, whereas in Paris, a request for a vegetarian meal is still often met with scorn, ridicule, bafflement, or disgust."
For my part, I remember with dread the many stodgy under-flavored vegetarian meals I had when I was writing a weekly restaurant-column for Time Out Paris ten years ago. To its credit, Time Out has long placed its vegetarian readers on an equal footing with its carnivorous ones, so I regularly had to revisit the theme of Vegan eats as best I could by frequenting a series of dusty little restaurants that were time-capsule holdouts of the soixante-huitard (hippie) crowd. The problem was the gestalt of these places:  Eating vegetarian is good for you. There's no doubt that's true, of course, but the pleasure of good food at these old-time vegetarian tables had sort of willfully been shorn off in sanctimonious refusal of gastronomy as a bourgeois affectation, shameful on a hungry planet.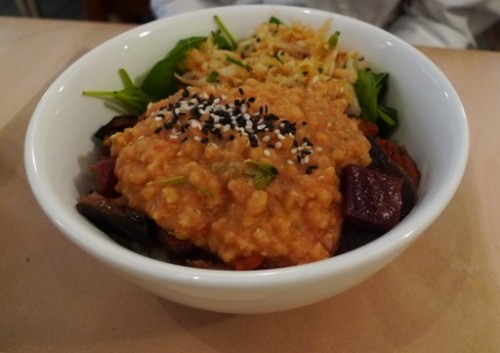 Veggie Bowl at Bob's Juice Bar (photo Meg Zimbeck)
Unfortunately, in Paris many of these places soldier on, and if a new generation of casual dining vegetarian places often run by expats – Bob's Juice Bar, for example –  is broadening the local offer, the pickings remain slim for anyone who loves good food as much as I do. Catherine Down agrees: "I tend to hate vegetarian restaurants in Paris as they end up being so sad. The decor is generally outdated, and the menu items run heavily towards processed fake meat substitutes. I don't find fake meat to be a particularly appealing option even as a vegetarian so it's even more challenging to convince my carnivorous friends to join me at those places. Instead, I often just look for non-vegetarian restaurants that have interesting vegetable dishes that happen to be vegetarian."
As Indian food writer Rashmi Uday Singh's excellent guidebook A Vegetarian in Paris illustrates, foreign kitchens—notably those of India, China, Thailand, Japan and Italy, are often better choices in Paris than French ones, which is actually sort of odd. As Clotilde Dusoulier's new book makes deliciously clear, there are actually a lot of interesting and richly flavored vegetable dishes in the canon of regional French cooking. The problem it seems is that so few of them ever get out of home kitchens and on to restaurant menus, and then in an historically agriculturally rich country like France there's the deep cultural predilection towards meat and fish.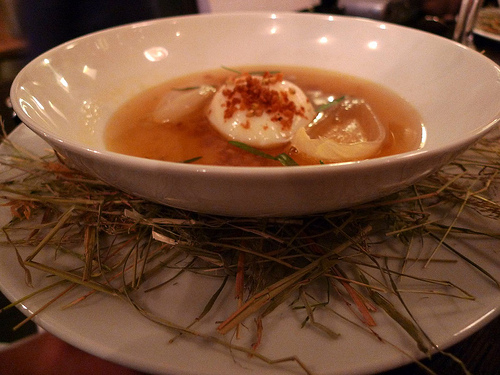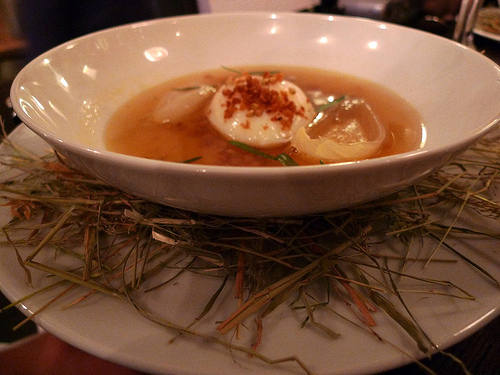 Creative and occasionally meatless cooking at Septime (photo Meg Zimbeck)
Happily, there are signs that the vegetarian offer in Paris is evolving. "In Paris, there appears to be growing fascination with vegetables as the primary focus of any dish, and I think we have the young, inventive tastemakers behind Le Chateaubriand, Spring, Septime, Verjus, Pierre Sang Boyer and others to thank for this shift, notes Lindsay Tramuta. "The attention the French media continues to place on these stars of the 'nouveau bistro' movement is also helping to raise interest in a much more diverse, seasonal, local and veggie-driven culinary palate. But ultimately, these are the places you go for playful uses of all ingredients, including fruits and vegetables, and it comes with a price." Still, as Clotilde Dusoulier points out, "Among the exciting contemporary vegetarian restaurants that have opened in Paris in recent years, the great majority have adopted the daytime café format, which means they're only open for lunch. I wish we had more options for a vegetarian dinner, and I would love for a truly ambitious gastronomic restaurant like New York City's Dirt Candy to open here."
Watermelon, chili, feta, cucumber granita, radish from L'Office (photo Meg Zimbeck)
Catherine Down adds, "I would love to see more Ottolenghi-like places that offer beautifully prepared and presented, but still affordable vegetable-based cuisine. I want food that celebrates seasonality, fresh vegetables, and wonderful grains and highlights their strengths, rather than food that pretends to be something it's not (i.e. meat)."
But what Lindsey Tramuta and I are dreaming about is a Paris table as good as Vedge in Philadelphia. "There tofu doesn't masquerade as turkey to entice carnivorous diners," says Tramuta. "Innovative chef Rich Landau is known for his treatment of heirloom radishes, beets and mushrooms among other green produce; grilling, charring and smoking them and playing with spice to draw as much flavor as possible. This is what Paris needs. A place where vegetables are treated with the same love and respect meat that is, never as an after-thought or one-note side dish. Landau and his pastry chef wife chef Kate Jacoby didn't just want to be best-in-niche, they wanted to compete with the city's top tables. Pierre Sang Boyer immediately comes to mind as a chef who could bring something like this to life– he can hold forth for ages about the beauty of seasonal produce and how limitless the flavor possibilities are. But is Paris ready for a spot like this?" I hope we'll find out soon.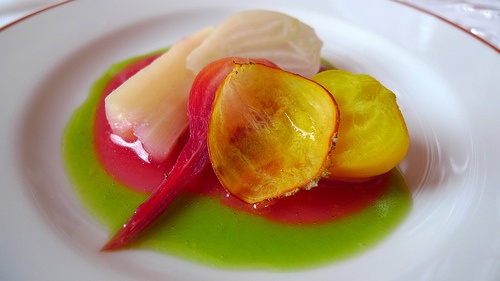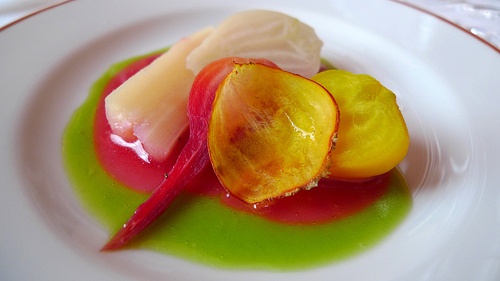 Beets at L'Arpège (photo Meg Zimbeck)
Best Bets for Vegetarian Options in Paris
Selected by the PbM contributing editors featured in this article
Lunch only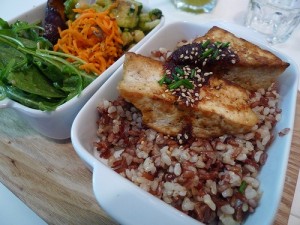 For casual lunch or dinner
Gastronomic vegetarian options
Macéo (prix-fixe vegetarian menu)
Lasserre (prix-fixe vegetarian menu)
Verjus (can accommodate vegetarians with a prix-fixe menu with advance notice)
L'Arpège (vegetable focused but not vegetarian without advance notice)
Additional Articles of Interest