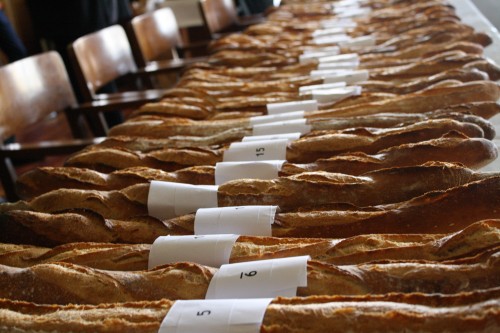 Last year, our Editor-in-Chief Meg Zimbeck was able to fulfill her gluttonous and glutinous dreams by participating as a judge in the Grand Prix de la meilleure baguette artisanale competition. You can check out her account of last year's competition for all the gory, caloric details.
It's a tough job taste testing hundreds of baguettes to find the best in Paris, but someone's gotta do it. This year, it's your turn.
The competition is offering one lucky carb fiend the opportunity to be a judge. The competition will take place during the afternoon of March 13th at the Chambre Professionnelle des Artisans Boulangers-Pâtissiers in the 4th arrondissement.
For your chance to break lots and lots of bread with the judges, send an e-mail by midnight TONIGHT (March 9th) to DICOM-QueFaire@paris.fr with the subject line Baguette 2014. Be sure to tell them in the body of the e-mail "Je suis libre le jeudi 13 mars après-midi et je souhaite élire la meilleure baguette de Paris."
Bonne chance carboloading!