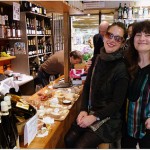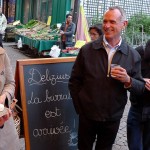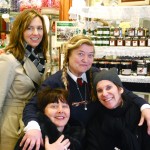 Curious about our tasting tours? We've been recommended by The New York Times, USA Today, David Lebovitz and Ruth Reichl, and you can read below what some of our wonderful clients have said about their experiences. Be sure to check out our calendar of upcoming food & wine tours and email us at tasteparisbymouth@gmail.com with any questions. Hope to see you soon!
"I'd recommend these to anyone; in a very intense two hours we worked our way through Androuet and Barthelemy, and discovered a few cheeses that were completely new to me.  We also, I might add, indulged in the single best Brie (de Meaux) I've ever had; it was creamy with those lingering hints of forest and mushroooms." Ruth Reichl from New York City (Tour de Fromage)
"Our private tour with Meg was the highlight of our time in France. We told her our schedule, and she put together a tour "on the fly" that ended with her walking us to our restaurant for dinner. Meg made us feel like friends visiting from out of town, instead of tour guide and client. We tasted mind-blowing cheeses, breads, chocolates and wines. We were fortunate to meet some of her very impressive and lovely friends in the food and wine business. We can't wait to get back to Paris and do it all over again!" Hilary and Ken from Cherry Hills Village, Colorado (private tour)
"I wanted to sing the praises for our guide! We joined another couple for the Montmarte food tour on May 18th and we had a blast! She was engaging, exceptionally bright, generous and a great teacher. Thank you for such an enjoyable experience!"  Dr. Marc Litle, from Dallas, Texas (Best of Montmartre)
"The intimate relationship that our guide Meg had with the shopkeepers made our tour so special and personal. Watching her communicate and chat with the purveyors made me believe one day, I too could live in Paris and talk cheese with the shopkeepers. We just fell head over heels with Meg… she was a sheer delight from her introduction of each guests to one another to her open smile and her ability to make each one of us feel like old friends. Meg, you are the real deal….joyful, smart and fun!" Pamela Ingersoll from Whittier, California

 (

Tour de Fromage

)
"I took the Best of Montmarte tour two weeks ago and it was a highlight of my trip to Paris! The small group, the slow pace, and the chance to really look at and taste the different foods. I also really liked the guide's architectural and historical knowledge which added a lot of interesting things to the tour.  She was just great! Very friendly and an expert in the architecture and the food of the town. You felt like you had been friends for years right after you met her." M. Lane from Florida

(

Best of Montmartre

)
"When Meg Zimbeck takes you on one of her tours of Paris, expect to eat good food, drink good wine, meet the locals, learn the history, and basically have a great time. I lived/worked in Paris for 5 years and I came back with my husband and we took her tour and I was wowed. Because I am a chef, Emile Zola's Belly of Paris interests me from a historical standpoint and because I cooked in Paris for many years. Meg and her colleague brought the fascinating history of this once bustling marketplace to life including the architecture. We tasted and sampled as we walked down the street and ended our visit in a Spring's wine shop tasting and pairing wines with some cheeses we picked up along the way. What a fun time!" Amy Hedayatpour from San Franciso, California 

via 

TripAdvisor

 (

Best of Les Halles

)
"We loved visiting the first market. I'm still dreaming about those roasted chickens! For us it was our first full day in Paris and it was a great way to get oriented to a very cool neighborhood. Phyllis was really fun and knowledgable and did a great job showing the Marais. Loved hearing her stories about the baguette competition." Andy & JoAnn from Reno, Nevada

 (

Best of the Marais

)
"Meg was excellent! Patient, incredibly knowledgeable and friendly. Felt like we struck gold with all of her insider knowledge and connections. I liked the informality of the tour. As a jaded New Yorker who abhors "travel tours", it was nice to have a guide who I could relate to." Tracy from New York City (Tour de Fromage)
"The food was fabulous of course. I have a sweet tooth so I wanted to try everything and I didnt know what to expect. We began the tour by stopping by several different chocolatiers and gathering their version of different treats. Then we found a table, sat down and compared three different master chocolatiers. That was only the beginning. The tour got even better from there! The whole afternoon we got a short course on techniques, presentation, history, origins and the culinary artwork of dessert treats! Meg is wonderful. I was familiar with her before I met her from her articles in magazines and blogs on the internet. Meeting her was a delight." Brant from Kansas City, Kansas (Sweet Paris: the chocolate & pastry extravaganza)
"Our guide was excellent. Learning about cheese was a highlight – she simplified what has always seemed very complicated." Family of four from Nashville, Tennessee (Best of Les Halles)
"It was a great tour and I would highly recommend it to others. It was very obvious that Meg enjoys what she is doing & is very knowledgeable about food and Paris. I had a dilema about the dates I could book, but she prompty responded to my emails & when I had to switch tour dates, she was very accommodating & understanding. Meg was so organized, bringing everything needed to enjoy our lunch." 

Judy Reitzel from Ohio (Best of the Latin Quarter

)
"Phyllis was fabulous, her knowledge and experiences in the area are top notch. I loved being able to truly see all the great food places in the Marais, but also feeling like we weren't on a set path that we could vary a bit if needed. If you are a food lover and like to tour with small groups and get a real feel for the city without venturing out on your own, then this is the tour for you." JR McGee from Seattle, Washington (Best of the Marais)
"We would recommend Meg to others without any hesitation." Annie and Allan from Beijing, China (Tour de Fromage)
"I loved every minute…loved the history that went along with the places and foods we sampled. Our guide was a pleasure to listen to and very willing to adapt to our needs and requests." Monica Weinstein, Montreal (Best of Les Halles)
"Meg is a treasure trove of information about the food scene in Paris, and is a fun and engaging tour guide. Her selection of vendors we visited was superlative, ranging from excellent cheese, wine, and macaron shops to an unexpected trip to an artisanal candy seller straight out of some children's novel. Highly recommended." ST from New York (Best of the Latin Quarter)
"The perfect balance between food info and food tasting. Meg is the dream guide: welcoming, knowledgeable and fun." Wendy Tigerman from Los Angeles, California

(

Best of Montmartre

)
"Meg was fantastic. She is an incredible tour guide and very friendly & knowledgable. She took anything we asked about into consideration in terms of what she spoke about as well as what food she bought for us to enjoy." 

Cara Kaplan from Brooklyn, New York

 (

Best of the Latin Quarter

)
"Loved loved loved – Meg was terrific! Enjoyed all the tastings and information – would do it again." Heide from Highland Park, IL 

(

Best of Montmartre

)
"Our guide Phyllis was wonderful and gave us great insight, not only of the area, but of food in general. Her enthusiasm and knowledge provided us with an experience of Paris we were lucky to have."

 Sharron S. from Montreal

 

via 

TripAdvisor

 (

Best of Les Halles

)
"Fabulous. Meg was knowledgeable, fun, and enthusiastic about not only food, but the beautiful City. We were able to glean so much wonderful information from her about life in Paris, and her perspective as an American living abroad. She is AWESOME!!!!! My favorite part was geeking out on bread, learning the history of the French baguette, how to order one properly, and all the intricacies associated with it." 

Nilo from Florida

(

Best of Montmartre

) 
"We did the Montmartre food tour with Meg and it was a hands-down highlight of our trip. The small-group format was ideal for heading into shops and walking through the amazing twice-weekly market, and for great conversations with our fellow attendees. And oh, the food. We haven't stopped talking about the 3-day-old goat cheese from heaven. If you're reading this and wondering whether you should schedule a tour, stop wondering and sign up. You'll be very glad you did." 

Erik L. from San Franciso, California

 (

Best of Montmartre

)
"I liked being exposed to so much that a tourist walking the streets alone would miss. It was like an outing with good friends showing you around. I thoroughly enjoyed the tours with both Meg and Phyllis in spite of being a tad envious of their knowledge of everything and ease with the French language." Helen from Truckee, CA (Best of Les Halles & Sweet Paris: the chocolate & pastry extravaganza)
More details about our food tours can be found here, and a calendar of upcoming tours is posted below!